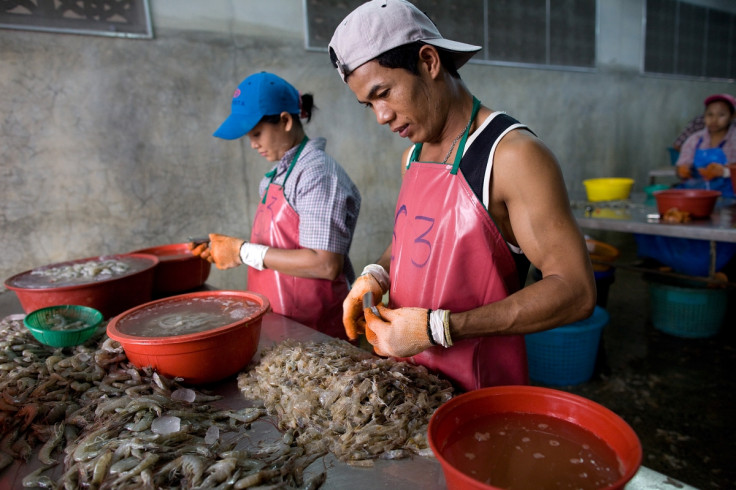 That garlic lemon shrimp you are about to bite into might just be the product of slave labour. A recent investigation has brought to light the unethical way peeled shrimp finds its passage to the US and onto freezer shelves of your local supermarket.
The Associate Press released a report that exposed how poor migrant workers, many of whom are children, are hustled into working as shrimp peelers in slave-like conditions in Thailand. These workers, many from Burma and other neighbouring areas are stripped of any sense of individuality and simply referred to by a number given to them by their Thai bosses. They are made to work 16-hour days under the threat of beatings, for very low or absolutely no pay.
"We had to get up at three in the morning and then start working continuously," said 16-year old Eae Hpaw, who suffers from infections due to shrimp allergies. "We stopped working around seven in the evening. We would take a shower and sleep. Then we would start again."
The AP report claimed that trucks from these shrimp peeling houses were followed to Thai exporters and later tracked via US customs records to various food stores like Wal-Mart, Kroger, Whole Foods, Dollar General and Pecto. A number of restaurants like Red Lobster and Olive Garden also used these slave-worked products.
"I want to eliminate this," said Dirk Leuenberger, CEO of Aqua Star, a leading seafood supplier. "I think it's disgusting that it's even remotely part of my business."
Red Lobster, Whole Foods and H-E-B Supermarkets, however, insisted that their products were not slave-supplied, and were assured of the same by their Thai suppliers.
"I am deeply disappointed that despite our best efforts we have discovered this potential instance of illegal labour practice in our supply chain," Thai Union CEO Thiraphong Chansiri wrote in response to the investigative piece.
Thailand is currently the leader in shrimp exports with many of these illegal shelling houses mixing their product with that of legal houses, making it harder to distinguish slave-peeled produce from the bulk.
The country suffers a long history of human trafficking, but of late the government has been working hard to stop such practices. "There have been some flaws in the laws, and we have been closing those gaps," said ML Puntarik Smiti, the Thai Labour Ministry's permanent secretary. "The government has made human trafficking a national agenda. The policy is clear, and every department is working in the same direction. ... In the past, most punishments focused on the labourers, but now more focus is put on punishing the employers."
Earlier in the year, a similar investigation had brought to light the fishermen and women slaves in Indonesia from where fish was caught and transported to Thailand.