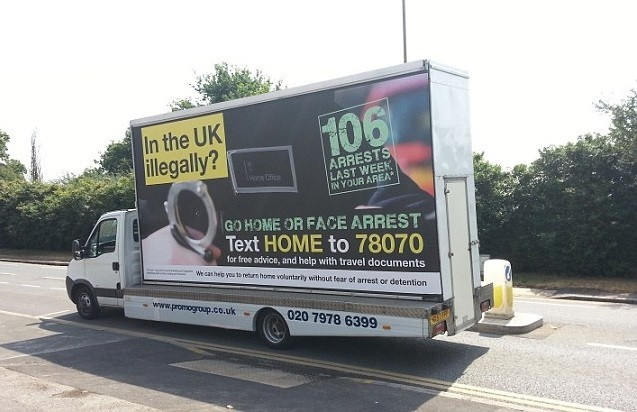 Polling has revealed that a majority of Britons support the Home Office's 'Go Home' vans campaign against illegal immigrants - despite condemnation of it even within the highest echelons of the coalition.
Research by YouGov found that 55% of those polled backed the trial scheme that targeted illegal immigrants living in six London boroughs.
Fresh polling showed that the number of people who found the message offensive fell 6% from July.
Two vans bearing the slogan, "In the UK illegally? Go home or face arrest", patrolled the streets as part of a crackdown on illegal immigration.
YouGov's director of political and social research Joe Twyman said: "The vans issue has received considerable negative coverage in the media and yet we've seen support for the scheme increase, indicating that politically this appears to be working to some degree."
Opposition to the campaign has been vocal, with critics accusing the government of stoking community tensions. Civil rights group Liberty launched a van campaign of its own which called the government measure "illegal".
It was also derided as a government bid to act tough on immigration in response to the threat Ukip poses to the Conservative party election prospects. But Ukip leader Nigel Farage condemned the message on the vans as "nasty."
And deputy prime minister Nick Clegg condemned the scheme as "unsettling."
Sixty complaints have been received by the Advertising Standards Authority, which launched a probe into whether the campaign posters broke equality laws.
But the watchdog also received messages of support for the scheme from members of the public.
The Home Office defended the scheme by claiming that it was working and had prompted a number of people living illegally in the UK to hand themselves in for voluntary repatriation. No figures were available.
The areas targeted by the vans were the boroughs of Barnet, Hounslow, Ealing, Brent, Redbridge, and Barking and Dagenham.
YouGov's poll of 1,660 adults found that 86% of Ukip voters supported the scheme - the highest percentage of any party. Seventy-four percent of Conservatives were in favour while a narrow majority of Labour supporters (51%) opposed.