The Dallas pastor's blunt message came amid heightened rhetoric between Trump and Kim. He said in a statement on Tuesday (8 August) that he was prompted to make the comment after Trump said that North Korea would be met with "fire and fury" if it continued with any threat to strike the US.
"The Bible gives President Trump the moral authority to use whatever force necessary, including assassination or even war to take out an evildoer like Kim Jong-un," Jeffress reiterated while speaking to Fox News on Wednesday (9 August).
"He's fulfilling his God-given responsibility."
However, the evangelical preacher, who has stood by Trump during the 2016 presidential campaign, received backlash from critics, which he said he expected.
"I expected that, but I also knew that there are many well-meaning but misguided Christians who don't understand what the Bible says about the use of force," Jeffress told Fox 4 news.
He argued that those who opposed his views were those who either "don't know what the Bible says or they don't believe" the holy book.
He said many of the critics will cite Romans 12, which says, "Do not repay evil for evil," but the pastor argued that the passage refers only to Christians and not to the government, the Washington Post reported.
In return, he cited a passage from Romans 13, which he said gave the president the power to do "whatever means necessary to stop evil".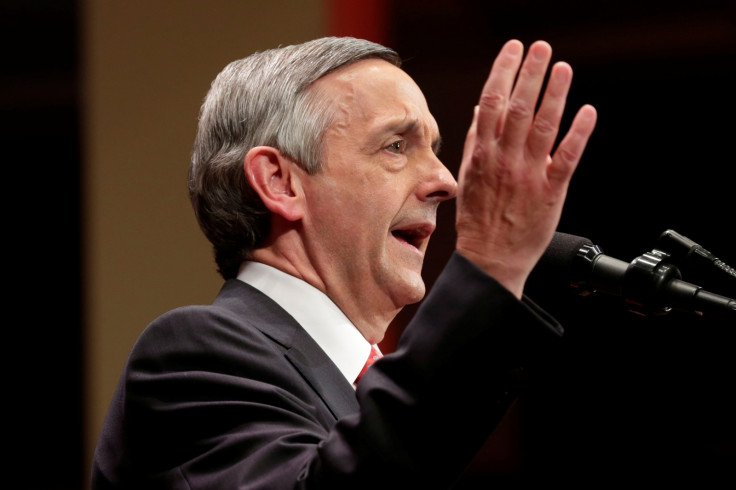 Jeffress, who who preached at Trump's pre-inauguration service in January, said on Twitter that his remarks on Trump "taking out" Kim Jong-un are the "Christian response to North Korea".
"When @POTUS draws a red line, he will not erase, move, or back away from it. Thank God for president who is serious about protecting our country," he tweeted on 9 August.
Confronting the North Korean regime's sabre-rattling has been a key aspect of US foreign policy under Trump.
The war of words between Trump and North Korea reached new levels after a report suggested that Pyongyang was closer than ever to becoming a fully-armed nuclear state and that it could fit nuclear warheads inside one of its missiles.
Trump said earlier on 9 August that the US nuclear arsenal is "more powerful than ever before". North Korea slammed him saying he was "bereft of reason".