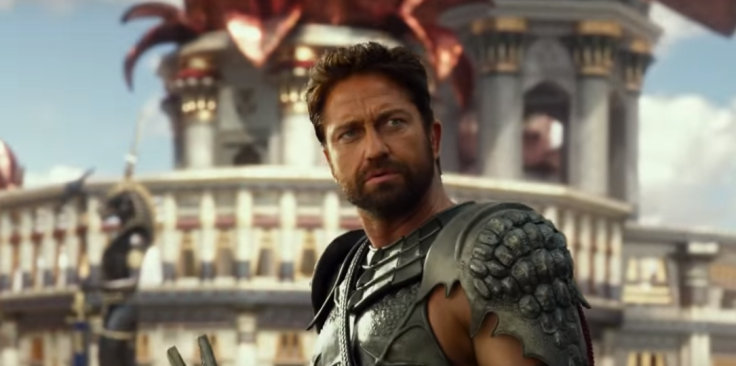 The film Gods of Egypt which revolves around a battle among ancient Egyptian deities is being criticised for having a predominantly white cast. The film features actors Gerard Bulter, Nikolaj Coster-Waldau, Courtney Eaton, Brenton Thwaites and Geoffrey Rush.
Comments about "whitewashing" surfaced when shooting began back in 2014 and now, with the release of the first official trailer, the issue is once again in the spotlight. Former NFL player turned filmmaker Matthew A Cherry pointed out in a tweet: "Dear Hollywood, Egypt is in Africa. Northern to be exact. Why is that so hard to grasp? Stop gentrifying African countries."
Actress Bette Midler felt the filmmakers needed a lesson in geography. She tweeted: "Movie, #GodsOfEgypt in which everyone is white? Egyptians, in history and today, have NEVER been white. BRING BACK GEOGRAPHY!! It's Africa!"
The film's director Alex Proyas along with the studio Lionsgate were quick to respond to the renewed outcry and individually sent out statements apologising for not being more racially accurate. "The process of casting a movie has many complicated variables, but it is clear that our casting choices should have been more diverse," Proyas said in a statement. "I sincerely apologise to those who are offended by the decisions we made."
Lionsgate said: "We recognize that it is our responsibility to help ensure that casting decisions reflect the diversity and culture of the time periods portrayed. In this instance we failed to live up to our own standards of sensitivity and diversity, for which we sincerely apologize. Lionsgate is deeply committed to making films that reflect the diversity of our audiences. We have, can and will continue to do better."
Surprised by the apology, Selma director Ava DuVernay tweeted: "This kind of apology never happens - for something that happens all the time. An unusual occurrence worth noting."
However, she did go on to compare the film with soon-to-be released Star Wars in which director J J Abrahams has a diverse cast featuring black and Latin American actors in prominent roles.
Racially inaccurate casting choices are being pulled up by critics more often these days. Earlier in the year, following criticism, Aloha director Cameron Crowe apologised for casting Emma Stone as an Asian American character in the film.
Most recently, director Joe Wright's decision to cast Rooney Mara as Princess Tiger Lilly, a Native American character in the film Pan, was also censured. "I totally sympathise with why people were upset and feel really bad about it," Mara told People magazine.
In 2014, Exodus: Gods and Kings came under the scanner for casting Christian Bale and Joel Edgerton as the lead characters. However in this case, as Forbes pointed out, director Ridley Scott refused to apologise citing that he needed a star cast for the sake of financial backing. Prior to the film's release, Scott told Variety: "I can't mount a film of this budget, where I have to rely on tax rebates in Spain, and say that my lead actor is Mohammad so-and-so from such-and-such. I'm just not going to get it financed. So the question doesn't even come up."
Aloha, Pan and Exodus all tanked at the box office. Gods of Egypt is slated for a February 2016 release.