Gold prices hovered near a two-month high in London on 27 June amid reports of weak Asian demand and after recent data highlighted that the US's road to economic recovery appears to be an uneven one.
Spot Gold prices hovered at $1,317.09 an ounce at 9:16 BST in London, according to Bloomberg data.
Gold for delivery in August inched up 0.1% to $1,318 on the Comex in New York.
Commerzbank Corporates & Markets said in a note to clients: "According to data from the Census and Statistics Department of the Hong Kong government, Chinese gold imports from the former British crown colony declined [in May 2014] on a net basis for the third consecutive month to total just 52.6 [tonnes].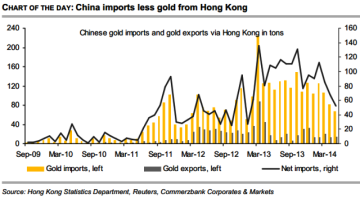 "Although this marked their lowest level since January 2013, prices hardly responded at all, unlike following the announcement of the April figures - which were likewise poor - four weeks ago..."
"407 [tonnes] of gold have been imported net from Hong Kong to China since the beginning of [2014]; extrapolated to the year as a whole, this would imply net imports of well under 1,000 [tonnes] and thus a noticeable decline year-on-year. Both the World Gold Council and the Shanghai Gold Exchange had recently expressed the expectation that Chinese gold demand would probably achieve roughly the same level as [2013].
"That said, gold could increasingly have been imported via the Shanghai free trade zone, meaning that the data from Hong Kong no longer give a complete picture of Chinese gold demand. This may explain the reaction of the gold price [on 26 June]. However, statements by the regional [Federal Reserve] President Bullard, who said that US key interest rates might already be raised in the first quarter of 2015, were also ignored by the market," Commerzbank added.
China Scandal
China's commodities trading sector has been dealt a fresh blow after its National Audit Office (NAO) discovered that tens of billions of renminbi (RMB) in loans were obtained on the back of false gold transactions.
The NAO on 26 June said that RMB94.4bn ($15.2bn, €11.2bn, £8.9bn) worth of loans had been backed by falsified gold transactions.
Meanwhile, a Standard Bank report on 26 June said gold demand in Asia, the leading consumer of the precious metal, remained weak.
US Data
Data from the US on 26 June showed that American consumer confidence held near its 2014 high during the week ended 21 June.
Earlier, data released on 25 June showed that the US economy experienced its worst quarter for five years over the first three months of 2014. The news weighed on the US dollar, which dropped to a seven-week low.
Revised statistics from the US Bureau of Economic Analysis (BEA) showed that the world's leading economy contracted by 2.9% in the first quarter, having grown by 2.6% over the final quarter of 2013.
Asia Pricing
China and Singapore are competing to provide viable gold pricing benchmarks in Asia.
China, on 25 June said at an industry conference that it wants to increase its influence on the global gold market and that it hopes to have its own price "fix".
Singapore said at the same conference it will roll out a physical gold contract on an exchange, to set up a transparent form of pricing.
The moves, to establish localised pricing of the yellow metal, come ahead of a World Gold Council (WGC) meeting that hopes to "explore reform of the London Gold Fix", an age-old pricing of gold twice daily that has drawn regulatory scrutiny for its alleged lack of transparency.