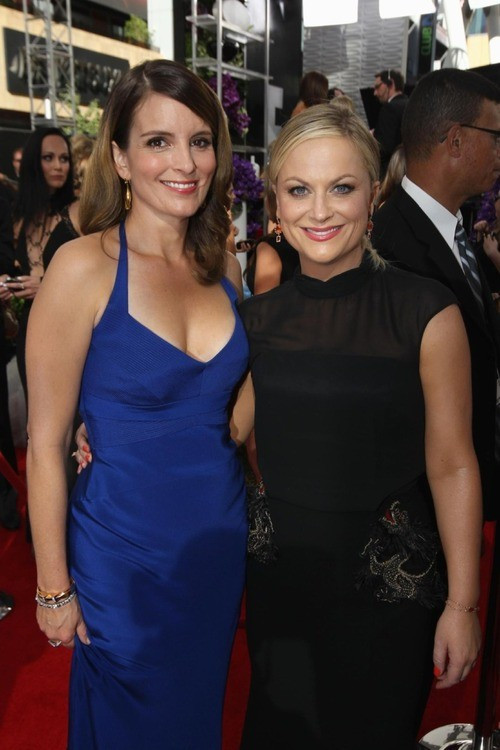 Best buddies Tina Fey and Amy Poehler's hosting act was a super success at last year's (2013) Golden Globes. So it came as no surprise when they were signed on to host the 2014 Globes as well. The duo was at their wittiest best and entertained the audience thoroughly.
Taking a crack at her second hosting stint, Fey said, "This is Hollywood, and if something kinda works they'll just keep doing it until everybody hates it," according to The Hollywood Reporter.
The pair also made fun of the evening's big winner American Hustle calling the film's original title as "Explosion at the Wig Factory" and mocked the raunchy content in The Wolf of Wall Street.
Jonah Hill was also targeted for one of his scenes in the Martin Scorsese directed film: "If I wanted to see Jonah Hill masturbate at a pool party, I'd go to one of Jonah Hill's pool parties," Poehler said. And making a quip about the film's lengthy runtime, Fey joked, "We're going to get this show done in three hours, or as Martin Scorsese calls it, Act 1."
Fey got a lot of laughs and applause from the audience at her joke on the space-thriller, Gravity: "It's the story of how George Clooney would rather float away into space and die than spend one more minute with a woman his own age."
Matt Damon, nominated for his role in HBO's Liberace biopic Behind the Candelabra, laughed graciously as Poehler said, "On any other night in any other room you would be a big deal but tonight -- and don't take this the wrong way -- you're basically a garbage person."
As per THR, the joke could be seen as a reference to a controversial comment allegedly made by critic Armond White at the New York Film Critics Circle Awards earlier in the month.
Joking about Meryl Streep's nomination in August: Osage County, Fey said, "There are still great parts in Hollywood for Meryl Streeps over 60." She also quipped that Dallas Buyers Club's McConaughey, "lost 45 lbs, or what actresses call 'being in a movie.' "