Gone in 2 seconds: Watch Hyperloop make history with first successful public test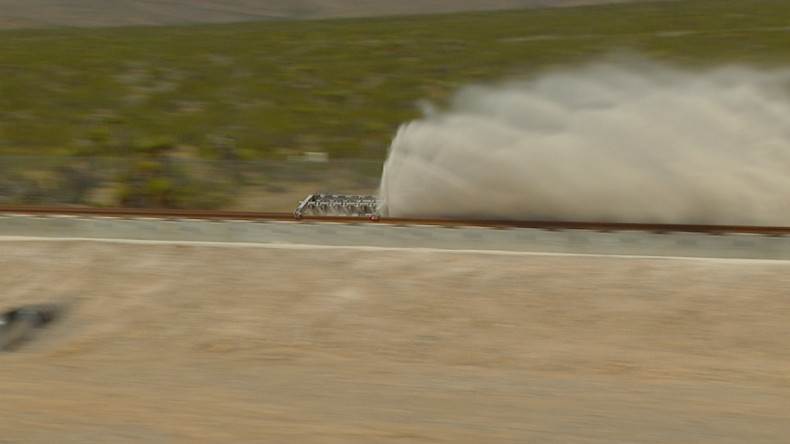 Hyperloop technology is gearing up for its upcoming real-world introduction. On 11 May, Los Angeles-based startup Hyperloop One conducted its first public high-speed propulsion test. It was so fast that it was done in two seconds flat.
Hyperloop One's mechanical aluminium sled travelled for around 1,000 feet in just about two seconds. Travelling at around 100mph, the 10-feet-long sled zoomed past on the train track built specifically for this open air test, before crashing into a sand bank designed to stop the machine. The test was conducted in the desert near Las Vegas, Nevada, where Hyperloop is currently building an extended testing track for future systems testing, the Forbes reported.
Responding to comments about how quick yet enticing the test was, Hyperloop One co-founder Shervin Pishevar told the Verge: "This was to show everyone we're actually building this. This is real."
Staged before a group of investors, government officials and journalists from across the globe, Hyperloop One's aluminium sled achieved 0 to 60mph in just 1.1 seconds and achieved a maximum speed of around 100mph. The test was the first step in realising Space X and Tesla CEO Elon Musk's next-gen transportation technology. However, it was just a baby step. Given that the firm's test track was fairly small to truly display the magnitude of the speeds hyperloop technology can achieve, the test's success may not seem all that impressive.
The company said it is currently developing a more complete system that should ideally be ready by the end of 2016. Unlike the open air test, the final system will be tube-based and vacuum-sealed in order reduce the air drag. According to Hyperloop One co-founder Brogan BamBrogan, once the firm's complete system has been built, the aluminium sled is expected to travel at incredible speeds of 400mph, making the dream of future high-speed travel between vast distances, one further step closer to reality.