The legal battle between Google and Oracle, unfolding at a US District Court, has resulted in images of a prototype Google Phone from 2006, along with plans for the Android operating system, being laid bare in open court.
Accroding to the documents, some two years before the Android software was launched commercially, Google reportedly approached T-Mobile USA with an idea to release an Internet-centric phone with a $9.99 (£6) unlimited data plan for a month.
"At Google, we believe we can be successful in transforming the mobile experience-in the same way we have revolutionised the fixed internet experience," Google mentioned in the document.
The unlimited data plan can be seen in the snapshot from teh court documents below and shows just how Google and T-Mobile planned on working together: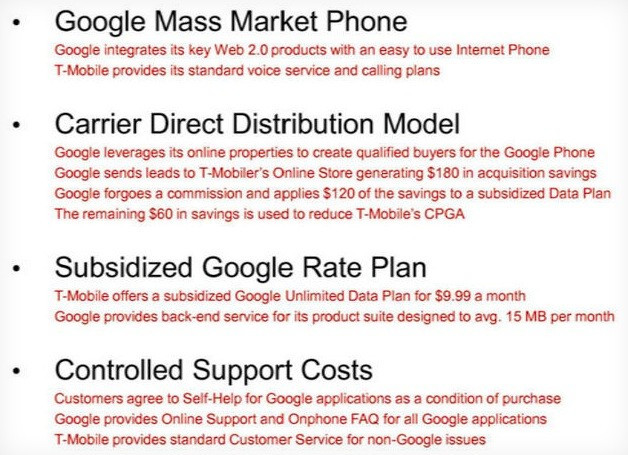 Helppfully, Dan Farber over at CNET has broken down exactly what Google and T-Mobile were planning:
Google leverages online properties to create qualified buyers for Google Phone.
Google sends leads to T-Mobile's online store generating $180 in acquisition savings.
Google forges a commission and applies $120 of the savings to a susidised data plan.
The remaining $60 in savings is used to reduce T-Mobile's CPGA.
T-Mobile offers a subsidised Google unlimited plan for $9.99 a month.
Google provides back-end service for its products suite designed to average 15MB per month.
Customers agree to self-help for Google applications as a condition of purchase.
Google provides online support and on-phone FAQ for all Google applications.
T-Mobile provides standard customers' service for non-Google issues.
This phone concept was not planned as a touchscreen. Instead, the device was to have featured on GSM networks (3G was the preferred option, though) with an ARMv9 200MHz processor with 64MB of RAM, Slashgear reports. The phone also included a two megapixel camera with a dedicated hardware button, a miniSD card slot and QVGA display with 16-bit colour and USB support.
The first Google Android phone, however, only went on sale in 2008. It was the T-Mobile G1 and cost $179 on a two-year contract. The G1 smartphone came with two data messaging plan options - one with unlimited web usage and messaging for $25-a-month and another plan costing $35-a-month offering unlimited messaging and access to Internet.