A seven-year-old girl who wrote to the chief executive officer of Google asking for a job had a heart-warming reply to her letter.
Chloe Bridgewater had been discussing with her father where she might one day work and he showed her images of the famed Google headquarters.
Clearly impressed, she decided that she would like to work for the technology giant and penned a touching letter beginning "dear Google boss".
"My dad said I can sit on bean bags and go down slides and ride go-karts in a job in (Google)," she said.
Expressing her many varied career aspirations, which include working in a chocolate factory or becoming an Olympic swimmer, she added "I like computers too ... and my teachers tell my mum and dad I am very good in class ... My dad told me if I carry on being good and learning then one day I may be able to have a job at Google".
"My Dad told me to give you an application to get a job at Google. I don't really know what one is but he said a letter will do for now," she added.
To Chloe's surprise, just four days later she received a personal reply from Google CEO Sundar Pichai.
"Thank you so much for your letter. I'm glad that you like computers and robots, and hope that you will continue to learn about technology," he wrote. "I think if you keep working hard and following your dreams, you can accomplish everything you set your mind to — from working at Google to swimming at the Olympics.
"I look forward to receiving your job application when you are finished with school! :)
"All the best to you and your family."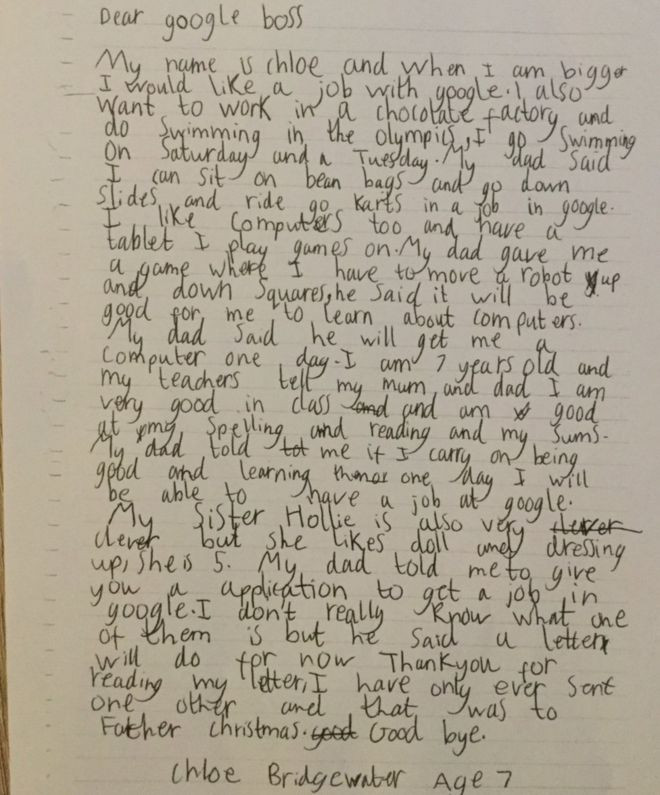 Chloe's mum Julie told Sky News her face "just lit up" when she saw the envelope with the Google logo on it. "I didn't expect a response at all, it was a complete shock," she said. "It was really lovely for Chloe because she put so much effort into writing the letter. She did it over the course of two days."
The letter went viral after Chloe's father Andy Bridgewater posted it on LinkedIn, receiving more than 10 million views, and prompting phone calls for Chloe from Japan, China and the United States.
The sales manager from Hereford said his "entrepreneurial" daughter "took it all in her stride." He explained: "We were gobsmacked, but I don't think Chloe could understand the magnitude of the reaction she'd got afterwards."
"She's got a great entrepreneurial spirit. Ever since nursery, she's always been told in school reports she's bright, hard-working and polite — we're very proud of her and her younger sister [Hollie, five] is similar," he said.