Google's plans to almost double the size of its London headquarters were announced by chief executive, Sundar Pichai, part of an elite club of Indian-born leaders at the forefront of the world's largest tech firms.
Pichai, 44, took the top job at Google last August after being marked out as a rising star of the web browser giant he joined in 2004.
Another Indian-born hotshot is Satya Nadella, who was appointed to the top job at Microsoft in 2014, valued at $461bn (£370bn), replacing the long-standing chief executive Steve Balmer.
Google said it plans to build a 10-storey, 650,000 square foot complex alongside its new offices in Pancras Square, creating around 3,000 jobs and boosting its investment in the UK by around £1bn by 2020.
Pichai said: "Here in the UK, it's clear to me that computer science has a great future with the talent, educational institutions, and passion for innovation we see all around us."
The trained engineer took the helm at Google as part of its reorganisation which saw it create a holding company called Alphabet. On one side of the holding company is the vastly profitable Google, and on the other are dozens of blue-sky projects the group hope might one day make money.
Alphabet's market value is $532bn, with virtually all of that accounted for by Google.
"This new structure will allow us to keep tremendous focus on the extraordinary opportunities we have inside of Google," the firm's co-founder Larry Page wrote in a blog that surprised the industry last year. "A key part of this is Sundar Pichai."
April's Fool
The soft-spoken Pichai started at Google on April Fool's Day in 2004, building the now defunct Google toolbar. It gave users of Internet Explorer and Firefox, the dominant browsers at the time, easy access to Google search.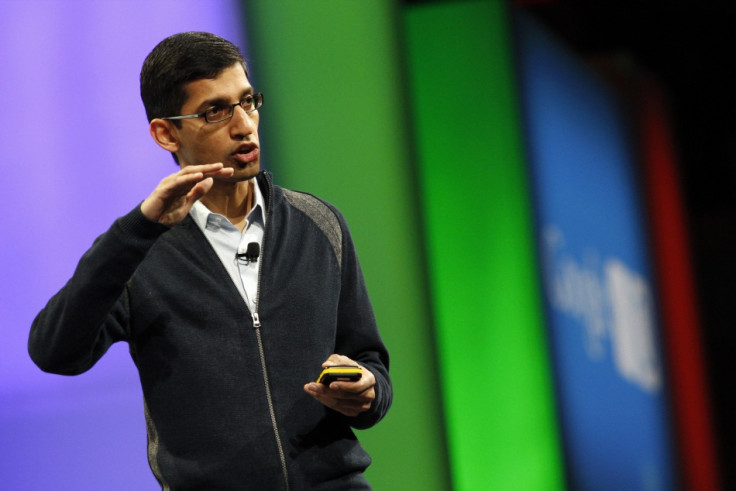 But Pichai said that Google should build its own browser and won the support of the company's co-founders, Page and Sergey Brin. However, the then chief executive Eric Schmidt, thought that joining the browser wars would be an expensive distraction.
That browser went on to become Google Chrome which proved fast and ensured that web users had direct access to Google's search engine and its profitable advertising. Chrome became the dominant browser on the web.
Pichai took charge of the firm's Chrome business, and in 2013 was also put in charge of its mobile unit, which covered the group's Android services to firms such as Samsung, LG and HTC.
"Sundar has a talent for creating products that are technically excellent yet easy to use – and he loves a big bet," Page wrote in another blog when he promoted Pichai.
A year after taking up the new mobile role, and smoothing relationships with suppliers and frictions the unit had with other parts of the group, Google was shipped in one billion mobile devices worldwide.
Moves to the US
The chess-loving Pichai was born in the port city of Chennai, capital of the Indian state of Tamil Nadu. His father, Regunatha Pichai, worked as an electrical engineer for Britain's General Electric Company.
He was educated at the prestigious Indian Institute of Technology (IIT) in Kharagpur, where he studied engineering.
He won a scholarship to Stanford University in the US to study materials science and semiconductor physics. Pichai lived with a host family during his first year and spent much of time missing his girlfriend, Anjali, who later joined him in America and is now his wife. They have two children.
Pichai had planned to get a Ph.D. at Stanford and pursue an academic career. But he accepted a job as an engineer and product manager at Applied Materials, a Silicon Valley semiconductor maker.
He went on to get an MBA from the Wharton School of Business in 2002 and worked as a consultant at McKinsey and Company, before arriving at Google.
Four to a scooter
Even though Pichai came from a middle-class background that still meant privations in India. His family did not get a telephone until he was 12.
And a family day out meant four of them travelling on a blue Lambretta scooter – his father driving, Sundar standing at the front, and his younger brother perched on the back of the seat with their mother.
It is a safe bet that the Pichai family now travel in much grander style.