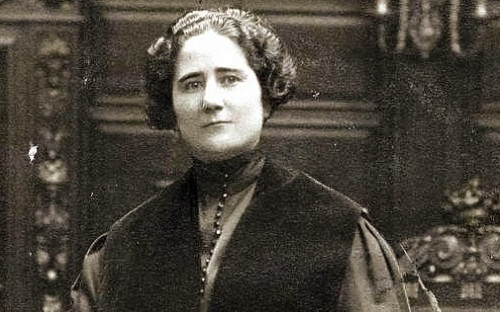 Google has paid tribute to a leading politician and activist of women's rights during the Spanish constitution of 1931.
Clara Campoamor, who was born 126 years ago today, is one of Europe's most influential - yet unknown - advocates of women's suffrage.
In celebration of the birth of Campoamor, IBTimes examines who she was and how she brought women's rights to the forefront of Spanish politics.
Who was she?
Clara Campoamor was born into a working class family in Madrid on 12 February 1888. She began working as a seamstress aged 13, before working in various governmental positions, with the Post Office in San Sebastian in 1909 and as a typing teacher in Madrid in 1914.
As a teacher, Clara was increasingly involved in the political scene in Madrid. She contributed to a liberal newspaper and secured a place at the law school at the University of Madrid.
What did she do?
Clara became active in various women's organisations during university, while writing political commentaries.

She earned her degree in 1924 and began practicing law, specialising in issues affecting women. In particular, she worked on cases of paternity and marriage. She helped found the International Federation of Women Lawyers in 1928.
How did she improve women's rights?
In 1927, Campoamor successfully advocated for improvements to be made to child labour laws, as well as electoral law changes. When it was finally legal for women to run for the Constituent Assembly - a new constitution was written in 1931 - she was one of three women who were elected, despite the fact women could not vote at the time.
That year, Campoamor was the first woman to address the constituent assembly of Spain.
She told male members of the assembly that the exclusion of women from voting was a violation of natural law.
Her opinion was opposed by political conservatives and Roman Catholic conservatives alike, as well as more liberal male members. Victoria Kent, who stood in the assembly, also disagreed with Campoamor's support of gender equality.
Defeated by her own party, Campoamor left after they decided to oppose women's suffrage. She continued to pursue her cause as an independent member of the assembly, maintaining her purpose was to be a spokesperson for women and women's issues.
Although a political outcast, she was appointed Director of Public Welfare from 1933 to 1934. In 1936, she fled the country during the Spanish Civil War and was banned from returning by the Francisco Franco regime. She died in exile in 1972.