Google has announced Chromecast, a $35 dongle that allows users to stream video from their laptops and smartphones through HD TVs.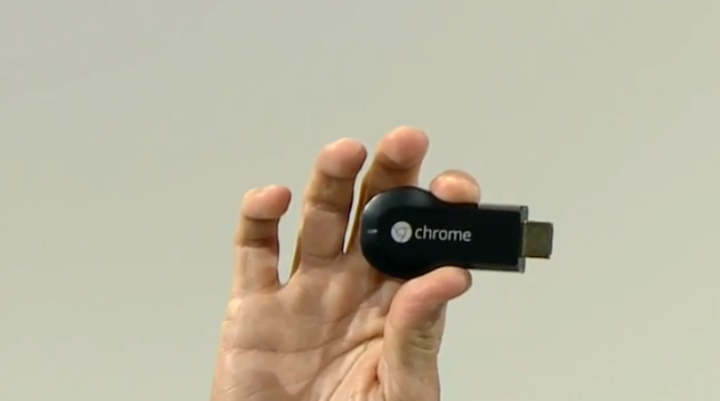 Google unveiled Chromecast during a press event in San Francisco, explaining the device would plug into the HDMI slot on a large screen HDTV and allow users to stream video from their mobile devices to their television screens.
The tiny 2in dongle uses a customised version of Google's Chrome OS, which has up until now only been seen on desktops and laptops.
The device is designed to make it easy for you to get video content from your smartphone, tablet or laptop onto the larger screen television. Video playback from both YouTube and Netflix apps is natively supported, as well as audio playback from music streaming service Pandora. Google has released a software developer kit to allow other video service providers to add the functionality to their apps, so expect more to be supported in the near future.
To use Chromecast with a tablet or smartphone (both iOS and obviously Android are supported, though not Windows Phone or Blackberry) simply launch the app, tap on the cast button, choose the TV you have the dongle connected to and the video wiil immedately appear on the chosen TV. You can then control playback and volume from your mobile device.
Interrupting
Users will also be able to do other things on their tablets and smartphones without interupting video playback on the TV.
In terms of laptops, Chromecast is supported on all recent versions of Windows and Mac OS X. To use it, simply launch the Chrome broswer, pick the tab you want to display on your TV and any vdieo playing in the tab will be shown on the TV. It can also be used to show pictures from services like Google+ or Flickr.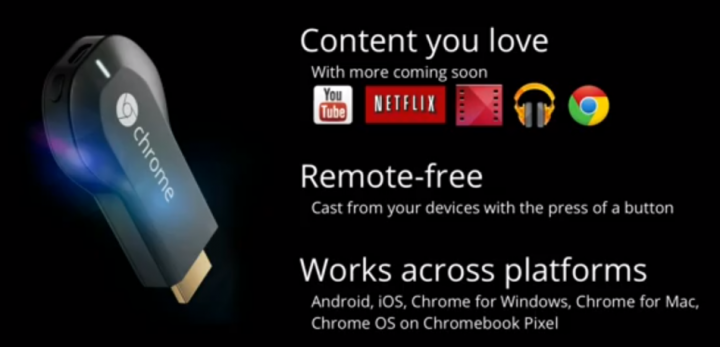 Surprisingly, the only one of Google's Chromebooks to support Chromecast is the Pixel, which launched in February this year and costs over £1,000.
Though Chromecast is currently listed on Google Play in the US, Google did not specify when the dongle would be available in the UK, only saying that the international roll out would begin "very soon." It's listed at $35, which includes three moths of Netflix subscription for new, returning and most importantly existing customers.
It's unconfirmed whether UK customers will receive a similar offer.
Another attempt
Chromecast represents another attempt by Google to enter living-room entertainment following the failure of its Nexus Q streaming device last year. The $299 Q was criticised for its high price. Introduced in June 2012, the device was shevled by Google in October of the same year.
Chromecast also puts Google in competition with Microsoft, Sony and Apple, all of which are attempting to control living-room entertainment via respective devices. Microsoft's Xbox One is expected to support an extensive catalogue of video-on-demand channels, as well as Sony's PlayStation 4, which will include, at launch in November, Video Unlimited, a library of more than 150,000 films. Apple is still fighting the living-room battle via its Apple TV service. Though exact plans for Apple TV are unknown, Apple CEO Tim Cook recently said the company had "grand visions" for its television offering.
Must Read: