Google's new mobile virtual reality headset has arrived, giving Google Pixel owners the chance to sample the Alphabet company's superb VR ecosystem, Daydream.
The headset itself – the Google Daydream View – is on sale for £69 in the UK, and the lightweight fabric kit is the perfect companion for any Pixel or Pixel XL user looking to sample the best the mobile VR space has to offer.
For our full thoughts on the Daydream View and Google's Android-powered Daydream software, click here. Below IBTimes UK has collected the best Daydream apps and games currently available for download from the Google Play Store.
Street View VR (Free)
What was easily one of the best experiences for Google's bargain-basement Cardboard kits, Street View is improved exponentially thanks to Daydream View's bundled "wand" motion controller.
Zipping about has never been easier as you simply point and click to dots around you, this makes exploring the 150 featured destinations – such as the Pyramids and the Taj Mahal – all the more fun and intuitive. You can also input almost any address from around the world; be it previous holiday destinations (I miss you, Tuscany) or former homes (where my cat has been immortalised for all to see).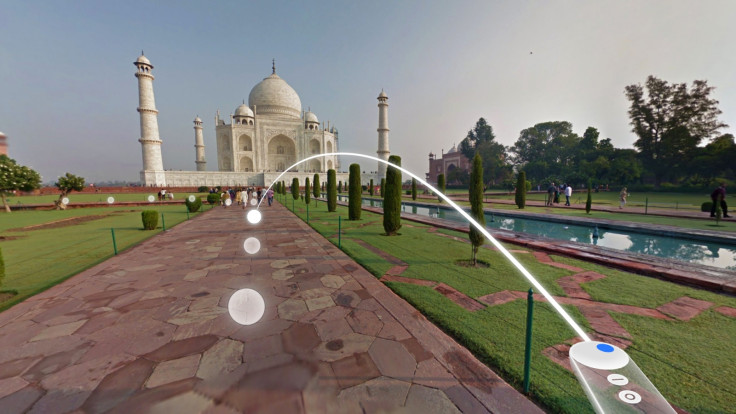 EarthShape (£4.79)
An entertaining sci-fi puzzler from the mind of Thomas Was Alone and Volume developer Mike Bithell, EarthShape's 25 levels task the player with bouncing orbs toward a goal by drawing deflective lines on a grid using the Daydream View controller.
When each puzzle stage is completed one of a number of celestial flora will grow in the background – we think this is the first game in the "universal puzzle gardening" genre. It's also narrated by Sue Perkins of Great British Bake Off fame. It's all very, very lovely.
Fantastic Beasts (Free)

Turning Daydream View's "wand" into a virtual wand was surely something of a no-brainer, especially with Harry Potter spin-off movie Fantastic Beasts and Where to Find Them on the horizon.
Created by the same visual effects company working on the film, Fantastic Beasts is a fun showcase of how developers can push the Daydream system and the potential of its motion controller. Experimenting with spells and potions in Newt Scamander's shack is a brief blast of wizarding fun, and the beasts are, well, fantastic.
YouTube VR (Free)

Aside from the millions of videos already uploaded to YouTube for your viewing pleasure, the growing quantity and diversity of the 360 degree videos on YouTube bodes well for its future in VR.
Whether witnessing David Attenborough introduce an enormous dinosaur, submitting yourself to viewing freaky experimental horror projects or attending live musical performances, YouTube VR will only improve over time as more and more content creators catch on to Google's killer app.
VR Karts: Sprint (Free)
An obvious Mario Kart knock-off, but a serviceable – if a little bare-bones – recreation of Nintendo's classic racer. Plus it's free.
VR Karts has a basic character customisation menu and a variety of courses, but its real strength is the controls. Power-ups can be aimed at rival drivers by directing your gaze at them, while steering the vehicle is done by holding the Daydream controller horizontally in two hands and tilting it from side to side.
After a few laps you'll be zooming your way to victory – a good indication of the controller's potential for future driving games.
Everybody Keep Talking and Nobody Explodes (£9.99)
The best multiplayer VR game to date is just as good on Daydream View as it was on HTC Vive, Oculus Rift, PlayStation VR and the Samsung Gear VR.
Strapping into Steel Crate Games's nerve-wracking bomb diffusing simulator is an absolute riot, as you are tasked with following (usually frantically delivered) instructions from friends and family who know which wires wires to cut (and which to 100% not cut under any circumstances) via an online manual.
If you haven't tried it yet and have a Daydream, grab some calm, trustworthy allies and start dismantling those explosives together as soon as you can.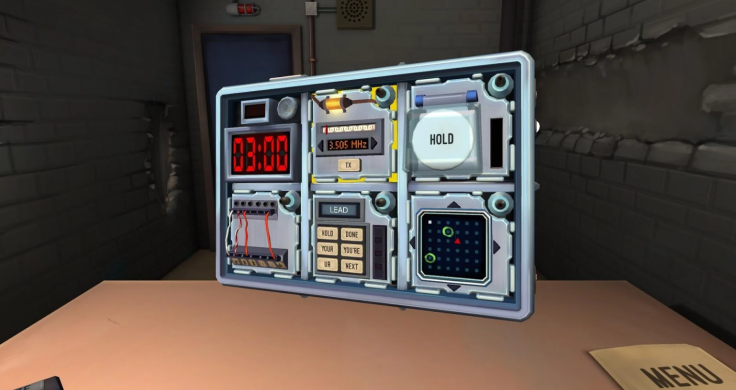 The Guardian VR (Free)
Referred to as a "marrying [of The Guardian's] experience of rigorous journalism with innovative storytelling", the UK newspaper's free app has been designed to transport "Daydreamers" to places and events they wouldn't normally be able to (and sometimes wouldn't want to) witness in real life.
One of the "experiences" on offer at time of writing places the user in a solitary confinement cell in the US. The disquieting experience tries to convey what it'd be like to be stuck there for 23 hours a day, while another takes the subject to London's subterranean web of Victorian sewers and waterways.
With updates and additions promised "every month or so", The Guardian VR is another fascinating example of VR's intellectual potential beyond formulaic games and low-resolution movie clips.