Motorola is hinting that its new Moto X is ready for launch, placing full-page advertisements in newspapers such as The New York Times, USA Today and The Wall Street Journal.
Rumoured to sport a 10 megapixel rear camera, full HD display, dual LTE antenna, Snapdragon 800 1.7 GHz quad-core chip and 2.3 GHz Nvidia chip, the Moto X is likely to be introduced at an upcoming media event.
CNET reports that Leo Laporte, a technology broadcaster, stated on his latest show, This Week in Google, that he has received an invitation to a media event from Guy Kawasaki, who was named as Motorola adviser in March.
Laporte further speculates that the media event could be regarding the new Moto X.
CNET reported Laporte as stating that a small group of journalists, 50 people in two groups, have been invited on 10-11 July. The meeting is to take place at Google's Mountain View headquarters. Google acquired Motorola's mobile division last year, making the Moto X the first product the company has designed from the ground up.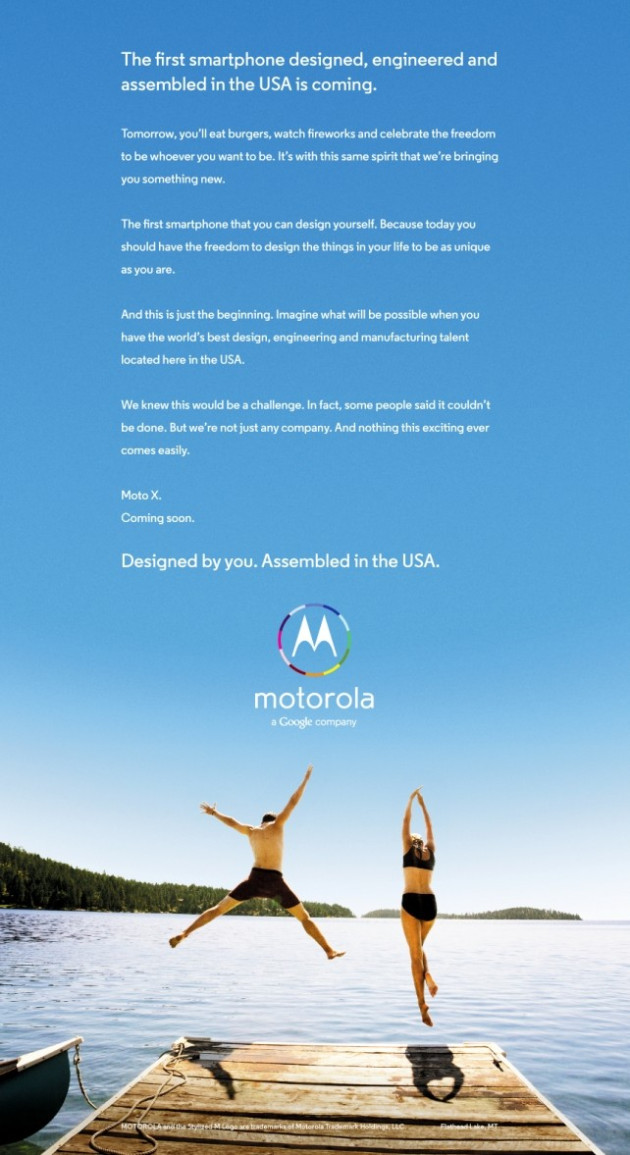 Speculation is that the Moto X may be announced on 11 July as the models in the advertisements are seen making "X" and "I" signs, the Roman numerals for 11. It has been also rumoured that Google may announce Moto X with Android Key Lime Pie operating system, which means it could be released later this year.
The advertisements also lay emphasis on the product assembling being done in US.
"The first smartphone designed, engineered and assembled in the USA is coming," states a line in the recently launched Motorola X sign-up page. This could mean that the device will debut in the US followed by other parts of the world.
Although the price of the device is not yet known, Know Your Mobile speculates it will be between £190-£299.