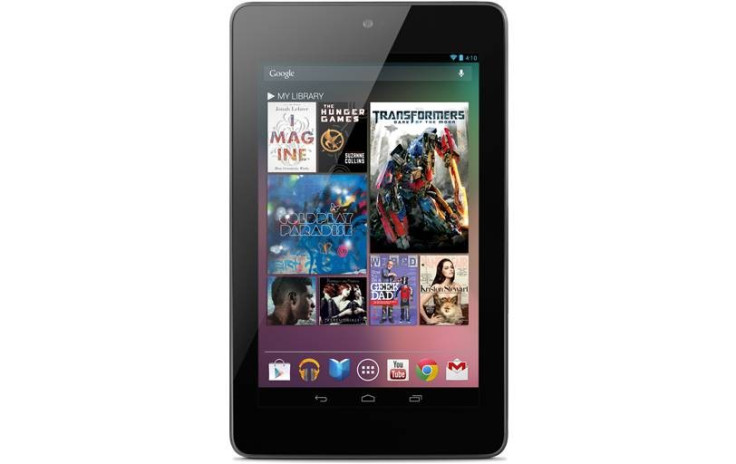 Google Nexus 7 is all set to receive a complete overhaul with its user interface and custom software features, thanks to relentless efforts of the Android development community such as XDA Developers' team. Smartphone users often look for great development potential, whenever a premium device is unleashed into the market. Besides impressive specs, great price and latest software, it is the product's feature customisation that takes precedence among discerning users.
Fortunately, Google Nexus 7 seems to own all the ingredients necessary for a healthy application development scope for the future. In our earlier IBTimes UK report, we have already discussed the tutorial for rooting Nexus 7. Now, the new update from XDA Developers points at the release of full custom tablet UI and hack pack for the coveted tablet.
Smartphone users already have uninhibited access to Nexus 7's custom ROM and custom kernel with a number of root level modifications. The custom kernel includes the following features:
Insecure
init.d support
Overclocked to 1.5GHz
Voltage tweaks at OC clocks
And the custom ROM features include:
Zip aligned
Superflous apps removed
Rooted
init.d support
Busybox
Ad-blocking host file
Aroma installer
DSP Manager
Original Nexus 7 boot animation
How to Get Full Tablet UI on Nexus 7
In simple words, just editing of the dpi enables tablet UI on your favourite Nexus 7. Here is the complete step-by-step guide to Do-It-Yourself using a file explorer of your choice.
According to XDA Developers, here is the explanation of what dpi does for your device:
"You are lowering the _value_ that Android _reports_ as it's DPI, you are not changing the screen at all. In effect you are lying about the physical size of the screen.
"The default is 213dpi with a resolution of 1280×800 hence it's claiming that the display is 6in x 3.75in (7 inch diagonal).
"If you alter the DPI to 170 you are lying to the system (and apps) and claiming that the 1280x800 display is actually 7.5in x 4.7in (8.8 inch diagonal).
"When the apps think the screen is bigger they make the icons smaller and enable extra features (like multi-pane UIs)."
System Requirements
1) Rooted Nexus 7
2) Have a nandroid backup and a backup of your original build.prop (just in case)
3) Any file explorer that has root access to your system files
4) Jelly Beans software onboard (not a pack of Jelly Beans snacks as taunted by the developer)
Users should note that rooting and hacking involve the risk of damage to data and hardware. We recommend backing up your important data before proceeding. This procedure is to be followed at the user's own risk and the warranty on the device may be void once the device is rooted.
Method 1
Step 1: Get a file explorer such as MIUI File Explorer, File Expert, ES File Explorer
Note: For ES File Explorer go to settings allow mount rewritable and root access
Step 2:Then go to system
Note: In ES File Explorer just go to the star button on the top left hand side and click on the phone button and you will see the system folder
Step 3: You will find a build.prop file make sure to make a copy of it and save it somewhere just in case for a backup.
Step 4: Then click on the build.prop and open it with a text editor. (Note: ES file manager has its own text editor called ES Text Editor...)
Step 5: Now scroll down to "ro.sf.lcd_density"
Step 6: Now the original lcd density is 213, so the best result for tablet mode is setting dpi to 175 or below.
Step 7: Save the file by press the menu button.
Step 8: Reboot your Nexus 7 and then you are free to enjoy the new Tablet UI.
Method 2
Step 1: Get Buildprop Editor
Step 2: Navigate to system and find the build.prop
Step 3: Then find the line with "ro.sf.lcd_density"
Step 4: Now the original lcd density is 213, so the best result for tablet mode is setting dpi to 175 or below.
Step 5: Now save the file and reboot your device. Enjoy
Method 3
Step 1: Get ROM Toolbox Lite or Pro if you want support for awesome apps
Step 2: Swipe to performance and press build.prop editor
Step 3: Now scroll down to ro.sf.lcd_density
Step 4: Press on it and change the dpi to 175 or below
Step 5: After doing that press ok and wait for the reboot prompt
Step 6: Reboot your Nexus 7 and enjoy some tablet UI goodness.
For more refined performance results, you might await the arrival of systemui editing tool that's already in the pipeline.
Reference Materials and Hack Tools
Those of you interested in digging out more reference materials and fiddling with binaries for unearthing more advanced mods and developer apps should check out XDA Elite Recognised Developer AdamOutler's collection of Nexus 7 Hack Pack. Although, the hack pack is still in its elementary stages, it spills out enough tidbits to reveal what to expect from the hacker team at XDA Developers in the near future.
Nexus 7 Complete List of Specs
Quad-core Tegra 3 processor
7" 1280x800 HD display (216 ppi)
Back-lit IPS display
Scratch-resistant Corning glass
1.2MP front-facing camera
4325 mAh (Up to 8 hours of active use)
8 or 16 GB internal storage
1 GB RAM
198.5 x 120 x 10.45mm
WiFi 802.11 b/g/n
Bluetooth
Microphone
NFC (Android Beam)
Accelerometer
GPS
Magnetometer
Gyroscope
340 grams
Contents of the Hack pack
Reference Material
Tegra 3 TRM Technical Reference Manual
Voodoo Analysis from Supercurio
Binaries
bash - the greatest shell ever
tcpdump - a wifi analysis tool
viewmem - a tool to expose the memory registers
and i2cTools: i2cdetect, i2cdump, i2cget, i2cset - a set of tools used to manipulate and read i2c
Download the Nexus7 Hack Pack here: http://d-h.st/MZg
[Source: XDA Developers]