UPDATE: The Nexus Player, costs £114.99, is now in stock at Amazon UK.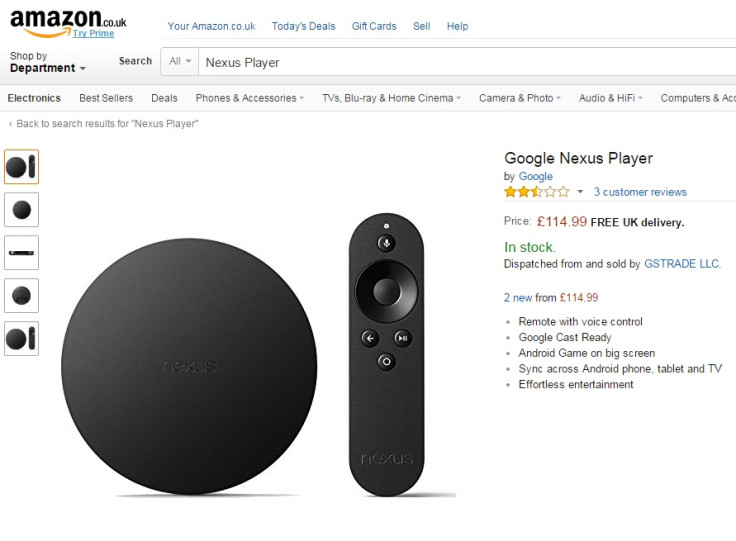 Nexus Player, Google's first device running Android TV, will be released in Amazon UK stores on 26 March.
Unveiled on 15 October last year, the Asus manufactured Nexus Player is a streaming media player for movies, music and videos. With the Nexus Player you can play Android games on your TV with a gamepad, as well as on your phone. It is also Google Cast Ready, which means you can cast your favourite entertainment from any Chromebook, Android or iOS phone, and tablet to the TV.
Coming pre-loaded with Android Lollipop, the Nexus Player was on pre-order in the US shortly after its launch, followed by availability in early November. UK users should soon be able to get their hands on the new Nexus Player.
Amazon UK has opened up pre-orders for the Nexus Player, which costs £79.99. Google and other online retailers in the country are yet to reveal the price deals for the device. Potential buyers can check the following link to place their pre-order via Amazon.
Pre-order Nexus player via Amazon UK [This particular page has been removed from the site.]
Android 5.1 now available
The Nexus Player will offer an even smoother experience, as Google has released the latest Android Lollipop iteration. Based on build number LMY47D, the Android 5.1 version is now available with download size around 180MB, according to XDA. Updating the device to Android 5.1, users should be able to get new apps, features, stability and improved performance on the media streaming device.
"My nexus player auto updated itself. Haven't used it all day and when I just checked it 5.1 was already installed. Android phones/tablets usually require the user to approve, but it looks like android TV will auto update. Perhaps a notification is shown and after awhile if the user doesn't do anything, it auto updates?
One thing I did notice is a "restart" option in settings->about, which is nice. No more unplugging and plugging to reboot!" exclaims forum member, McChen147.