Gordon Brown to intervene in Labour leadership contest over Jeremy Corbyn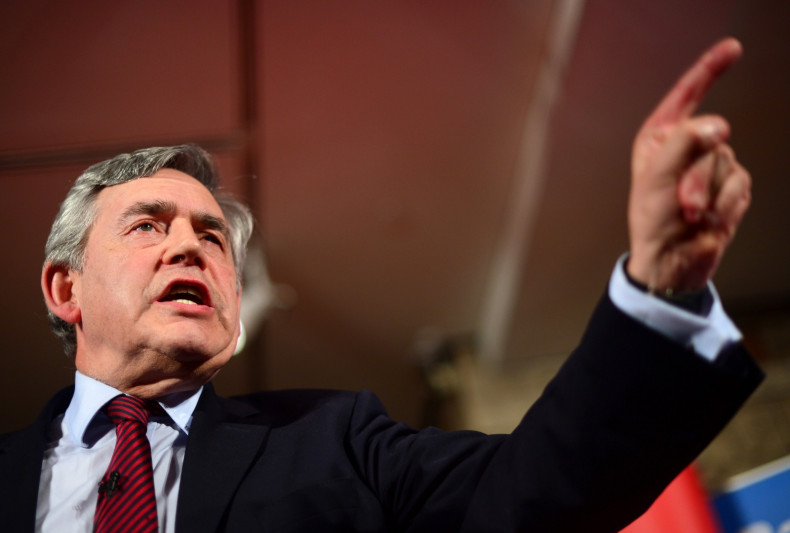 Gordon Brown, last seen fighting for the union against the SNP surge ahead of the general election, is now expected to intervene in the Labour leadership contest. The former prime minister and Labour grandee is set to make a speech on the future of his party in London on 16 August.
The talk will come after Labour sends off its ballot papers for the contest after more than 610,000 people signed up to vote in the election, including 189,703 affiliated supporters, 121,295 registered supporters and 299,755 members. Jeremy Corbyn is expected to win the contest as the opinion polls have consistently put him in first place based on first-preference votes.
The latest YouGov survey, which the pollster revised on the back of the supporter sign-ups, gave Corbyn a 37-point lead over Andy Burnham (57% vs 20%). The estimate means Corbyn could win the first round of voting and be announced as Ed Miliband's successor on 12 September. The thought of the socialist leading the party has pushed some of Labour's biggest names into action.
Tony Blair, one of Labour's most successful leaders, called on Corbyn supporters to "get a heart transplant" and Alan Johnson, a former home secretary, warned the Islington North MP could split the party. Now it seems it is Brown's turn to rail against the left-winger in his Power For A Purpose – The Future Of The Labour Party speech.
A source close to Yvette Cooper's camp has reportedly told Sky News that Brown will throw his support behind the former work and pensions secretary. The move would make political sense since Brown gave the 46-year-old her ministerial break and the leadership hopeful is married to Ed Balls, a long-time ally of Brown and former special adviser to the Scotsman in the Treasury.
But we will have to wait and see what happens on 16 August. Ed Miliband, meanwhile, has failed to publicly endorse a candidate in the contest. Liz Kendall, the "Blairite" hopeful, attacked Corbyn on 14 August in a last-ditch bid to stop the veteran parliamentarian from winning.
The shadow care minister was joined in her assault on the socialist by Burnham, who told the BBC: "Jeremy's plan lacks credibility. It's not possible to promise free university education and renationalising the utilities without that coming at a great cost. If you can't explain how that's going to be paid for, then I don't think we will win back the trust of the voters on the economy."