The fraught journey of Neil Gorsuch, US President Donald Trump's nominee to fill the vacant seat on the Supreme Court, comes to a head this week when his ascention to the highest judicial body in the country is decided by a vote in the senate. But as of Monday (3 April), Democrats had enough votes to make it a bumpy ride.
For the Senate to invoke cloture and actually have a vote, 60 senators need to vote to end the debate. Now that Democrats have 41 pledged against Gorsuch, they can refuse to end the debate and instead filibuster the nomination indefinitely.
Gorsuch's first hurdle, being voted out of the Senate Judiciary Committee, was passed on Monday – but not without contension. Senators on the committee voted along party lines to end with a 11-9 split.
Announcing his intention to vote against Gorsuch, committee member Senator Sheldon Whitehouse echoed the Democrats line that Trump should introduce a consensus pick: "Nothing prevents a president from announcing a consensus nominee for the Supreme Court with both Senate leaders standing beside him," the senator said. "This president chose to go a different way."
Republican senate leader, Mitch McConnell continued with his threatening words, with most now expecting him to go with "the nuclear option" – changing senate rules to stop a Democrat filibuster.
"It was unfortunate to see our Democratic colleagues on the Committee break with recent precedent and not support this clearly well-qualified and widely respected Supreme Court nominee." McConnell said on the Senate floor.
He called the potential filibuster "a new low", adding "but it's not too late for our Democratic colleagues to make the right choice."
The line is similar to one used by McConnell on Sunday, sounding like he's preparing his stance in a blame game, he told NBC's Meet The Press: "I can tell you that Neil Gorsuch will be confirmed this week. How that happens really depends on our Democratic friends."
"This afternoon it has become clear that Judge Gorsuch does not have the 60 votes necessary to end debate on his nomination." Democratic senate leader Chuck Schumer said on the senate floor. He also called out McConnell's veiled threats, saying: "the Majority Leader is setting up a false choice: support Judge Gorsuch or he'll have no choice but to break the rules."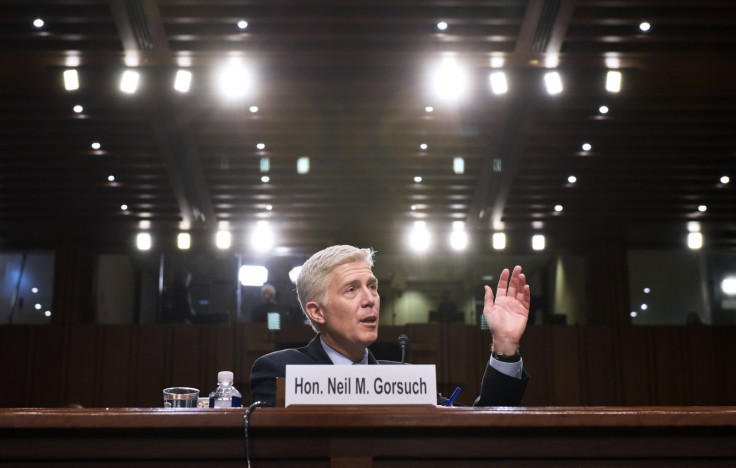 The minority leader also repeated his rhetoric that the two parties should "sit down together" to come up with a nominee that could easily pass the senate.
Schumer continued to invoke the Democrats' biggest chip on their shoulder: Merrick Garland. Garland was President Obama's pick to fill the seat now set to be taken by Gorsuch but Republicans refused to give him a hearing.
"We lost Merrick Garland because of the Majority Leader's unprecedented blockade, and Republicans will lose on Judge Gorsuch because we are doing something that we think is reasonable in asking he be able to earn 60 votes, as so many others have." Schumer said.
"We think the two are not equivalent. But in either case, we both lost."
At some point this week, this senate filibuster may too be lost to America's partisan nuclear war.