GoT writers pranked actors with fake scripts of violent deaths: Maisie Williams
In the YouTube series "Hot Ones," Williams revealed Alfie Allen, who played Theon Greyjoy, was told of his character's death by Bran Stark in an anticlimactic way.
The viewers of "Game of Thrones" were never sure which character would die in the next episode, and as it turns out, neither did the actors who played the part.
Maisie Williams who won hearts with her portrayal of the assassin and Princess Arya Stark has revealed that the writers often pranked the actors with scripts of their violent deaths.
The writers sometimes even continued the joke for weeks before coming clean, Williams revealed in an episode of the YouTube series Hot Ones, while devouring upon spicy chicken wings, reports PopSugar.
Williams told host Sean Evans that Alfie Allen, who played Theon Greyjoy, was told he was killed by Bran Stark in "a really anticlimactic way." Disturbed by the script, Allen texted Isaac Hempstead Wright aka Bran telling him he was cool with the demise scene, only to find out that the script was fake and Wright had no idea what Allen was talking about.
Also, Ygritte was right when she said, "You know nothing Jon Snow," as Kit Harrington knew nothing of the truth when writers told him that Jon Snow would get "really aggressively mauled on the face and he was going to have a huge disfigurement on his beautiful, chiseled jaw."
"That one was quite funny, poor guy," Williams said about Kit Harrington.
The 22-year-old who appeared in all 8 seasons of the HBO series said she learned to do most of her sword work with her left hand despite being right-handed. She did this to stay true to the character in the novel "The Song of the Ice and Fire", as readers would often point out the most trivial things that the show missed.
"This was the most exciting thing that ever happened to me, so I'd read everything about Game of Thrones online, and everyone was like, 'That horse is supposed to be black, not white!" and getting really upset about the most trivial things, so I was like, 'Guess I'm going to have to do this left-handed,'" she said.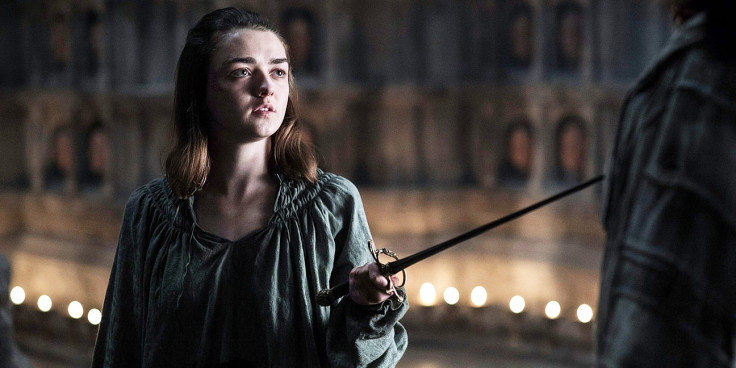 As the spicy wings made her cry on the YouTube show, Williams revealed to the host she almost missed out on playing the Night King killer for a school trip, interestingly to a pig farm.
"My mom really put her foot down and I was kinda mad about it, I really wanted to go on that school trip. I wouldn't be here today, you wouldn't want me on the show if I'd have gone to the pig farm!" Maisie explained.
The "Game of Thrones" series might be over with a rather disappointing finale, but two "Game of Thrones" prequel series are already in development at HBO, with the possibility of more coming.
© Copyright IBTimes 2023. All rights reserved.