The UK has lost track of hundreds of British jihadist fighters who travelled to the Middle East to join radical Islamic groups, Minister of State for Security Ben Wallace has admitted.
Around half of the 850 Britons who signed up to fight in Iraq and Syria with extremist groups such as Isis have returned to the UK, according to Wallace.
But he admitted a "significant number" have gone missing somewhere in the region.
"They went into a very hard part of Syria to reach into the Euphrates valley and then were dispersed from there," the minister told BBC Radio 4's Today programme.
He added: "About 15% to 20% we think have died out there either in military action, and at the moment we are seeing in dribs and drabs some of them coming into Turkey, maybe some of them trying to get back to us here, but there's a significant number that at the moment it is hard to actually tie down exactly where they are."
Jihadist fighters hiding out in Turkey has raised fears about the safety of British holidaymakers in the country's resorts.
But Wallace said the government "spent millions" on anti-terror measures with the Turkish government to catch British radical extremists.
The minister added that it also worked with tour operators and local Turkish police so that they "have a good response" to terror threats.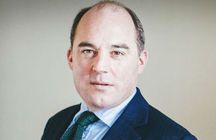 British fighters have had high-profile roles among the terror groups fighting in Iraq and Syria.
US airstrikes
Mohammed Emwazi, dubbed 'Jihadi John', featured in numerous gruesome Isis execution videos before was killed by an American airstrike in 2015.
Birmingham-born Junaid Hussain was a computer expert who led Isis' cyber-caliphate unit, which hacked into sensitive US military websites and published serving soldier's home addresses. He was also killed in 2015 at a petrol station in Raqqa by a US airstrike.
A heated debate has raged over how the 400 or so jihadist fighters who have returned to Britain should be treated.
Terror law watchdog Max Hill QC said in October the UK could attempt to reintegrate young and naive jihadists who returned to Britain.
He said: "We should be looking at reintegration and moving away from any notion that we are going to lose a generation from this."
But last month defence secretary, Gavin Williamson said Britons who had fought for Islamic State abroad should be hunted down and killed.
Williamson said: "I do not believe that any terrorist, whether they come from this country or any other, should ever be allowed back into this country. We should do everything we can do to destroy and eliminate that threat."