Government more interested in 'petty party politics', says Farage after May snubs Trump offer
Ukip leader accuses No 10 of 'trying to keep me out of everything,' despite links to President-elect.
Nigel Farage has hit out at the government for putting "petty party politics" ahead of the "national interest" after his offer to help build ties with Donald Trump was rebuffed. The Ukip leader netted a political victory after he became the first British politician to meet with the US President-elect in New York on Saturday (12 November) following his election victory.
Number 10 said there was no need for a "third person" in the relationship between Theresa May and Trump. Farage had previously claimed "there are some fences that need to be mended" after government ministers made disapproving remarks about Trump during the campaign trail.
But the British prime minister's official spokeswoman insisted the government has "well established" channels of communication with Trump's team. She also highlighted the conversation between the pair last week, during which the President-elect "talked about enjoying the same close relationship that Reagan and Thatcher did."
Speaking to LBC radio, Farage said: "It just amazes me that those ghastly little apparatchiks that work in Downing Street put out statements like this. It just goes to show they are not really interested in the country or the national interest, they are more concerned about petty party politics and trying to keep me out of everything.
"If you think of America in terms of a business and think of them as a client we want to do business with. What would you do? You would use the person who has the connections. Nobody in this administration in the UK has any connections with the Trump team at all, and yet they are prepared on behalf of the country to cut off their noses to spite their faces," added Farage.
May's decision to give Farage the cold shoulder has reportedly provoked a Cabinet split, with some ministers urging her to use his links to Trump.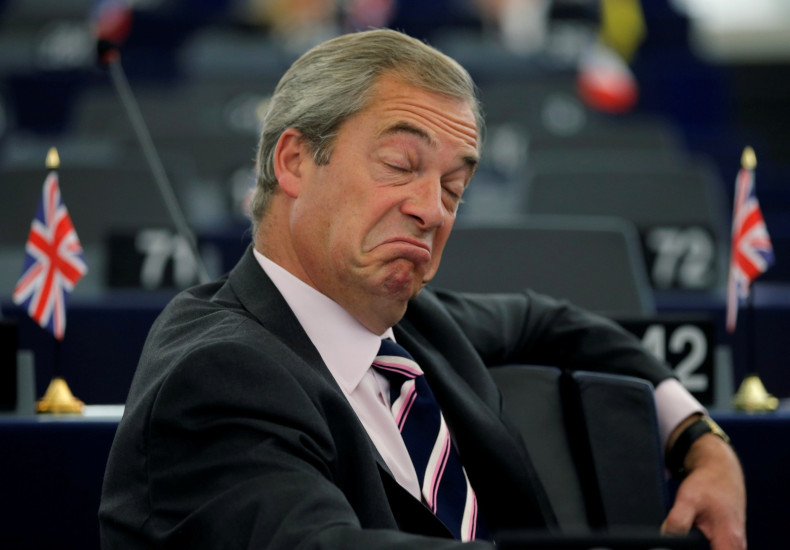 Former Tory minister Sir Gerald Howarth warned the prime minister it is "not sensible" to brush the Ukip leader to one side. "If Nigel Farage is well-connected with Donald Trump - as it would appear that he is - then we should certainly be talking to him," Howardth told BBC Radio 4's World At One. "I am not suggesting a formal role for him but I certainly do think it is worth talking to him."
When questioned over the possibility of a role for Farage, the prime minister's official spokeswoman said: "We have established routes of engagement with the president-elect and his team. Our diplomatic staff have been building those contacts and links in the run-up to the election ... Relations between the two teams are working well."