Graeme Swann was left thrilled after figures of 4 for 85 saw him surpass Jim Laker as the England's highest ever wicket-taking off-spinner on day one of the four-match test series against India in Ahemedabad.
Swann took the scalps of Gautam Gambhir (45), Sachin Tendulkar (13), Virender Sehwag (117) and Virat Kohli (19) during the opening day, as England toiled in the field as India put on 323 for 4.
And having surpassed Laker, and been the sole England wicket-taker, Swann is targeting a record haul in the first innings.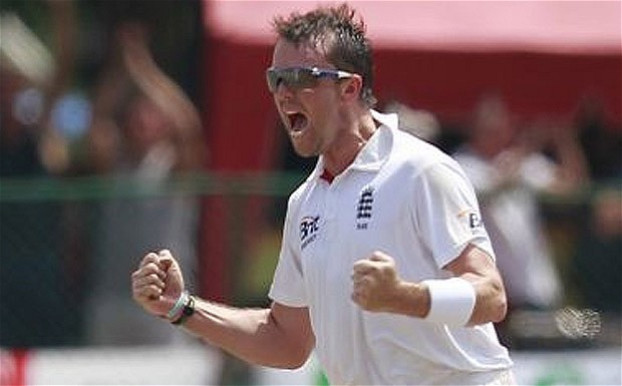 "It is a proud moment," said the 33-year-old. "I'm always saying I'm not one for stats. But when people told me I was near to Jim Laker, I was genuinely excited.
"When you're growing up, famous names from the game, you never even dream of emulating them - let alone going past their record. So I'm very honoured to go past him today."
"That's a very good point. That really is the glass half-full. Why not? I've taken four, so I'll go to bed tonight and dream of 20 wickets!"
"From the first few overs, we realised we were in for the long haul over here," Swann added
"That first session was very tough, and we had a guy in exceptional form. They undoubtedly won that session. But I think we won the second, and the third was fairly even."
"Having lost the toss on that pitch, we'd obviously have liked five or six wickets - but we'll take four.
"I think we all came back very strong. At lunchtime, we sat down and came up with a new gameplan - because I don't think we bowled quite straight enough in the first session.
"On a pitch that is low and slow, you've got to attack the stumps a bit more. I think we did that, as the day went on, and that's why we got more wickets - and pulled the run-rate back, especially."
While Swann and co struggled at one end, Indian opener Verender Sehwag helped himself to his first century for over two years to anchor the hosts' innings which sees Cheteshwar Pujara (98) and Yuvraj Singh (24) not out overnight.
"I am very happy to score a hundred after a long time," Sehway said. "I am very pleased that it came at the right time, the first innings of the first Test. Right we are now in good position, hopefully we will build on tomorrow, and bowl well. We know we have to bowl well because the wicket is on the slower side."
"It's not easy, because the wicket is on the slower side. It's difficult to play your shots. They set the field with everybody on the [boundary] line, especially deep point and deep square leg, so it's not easy to hit boundaries, but you have to back yourself and play your shots.
"After 50 I relaxed, got little more confident, and played a few shots. I hit 14 or 18 in a Tim Bresnan over and got more confident. But the wicket is very slow and the ball is not coming on to the bat, and difficult to hit the ball."