Banksy has confirmed that a new mural of a man chiselling off one of the European Union's 12 stars from its flag is his artwork.
The piece mysteriously appeared overnight on the end wall of a building in the port town of Dover, which is strongly pro-Brexit.
The Independent said Banksy's representatives confirmed that it was his work. It is also featured on his Instagram feed.
Never shy about making a political statement, Banksy painted his mural, his first commenting on the UK's exit from the European Union, on the UK town nearest the continent where 62.1% voted in favour of Brexit.
The timing of the mural is quite symbolic too, coming at a time when the UK gets ready to go to the polls. Prime Minister Theresa May called a snap general election on 8 June to ensure that she had a "strong hand" in Brexit negotiations.
"Division in Westminster will risk our ability to make a success of Brexit," May said when she announced the elections.
The European flag's circle of 12 gold stars on a blue background stands for the ideals of unity, solidarity and harmony among the peoples of Europe.
The EU website says: "The number of stars has nothing to do with the number of member countries, though the circle is a symbol of unity."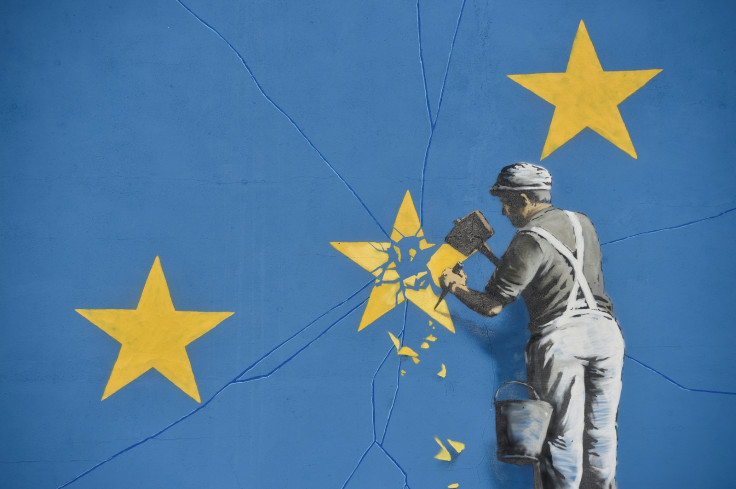 The flag hails back to 1955 when the Council of Europe, which defended human rights and promoted European culture, chose the design for its own use. In 1985, the flag was adopted by all EU leaders as the official emblem of the European Communities which later became the European Union.
Banksy mural draws mixed response
So what exactly does the Banksy mural depict? Social media users seem a bit unsure.
John Nisbet's tweet elicited the response, "That building is getting demolished," by Tony Tingey on Twitter.
Another tweet accused the radical graffiti artist of selling out:
And Alex Smith tweeted: "Someone should tell him the stars represent values, not countries, so removing a star represents a loss of values."
While Scott Haime used his Twitter feed to mock Banksy.
There was, however, some support. One person wrote: "That's great. And the sooner the wee guy chips it off the better."
"Bold and brave," was another comment. A third said: "The EU is a joke. Bye bye."