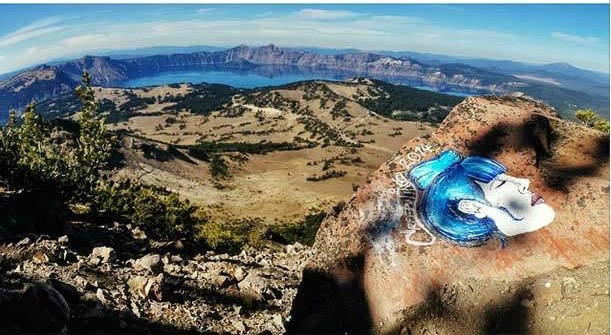 Furious hikers upset about the defacement of natural highlights of the American parks system successfully tracked down a culpable graffiti artist and alerted authorities, which resulted in a park ban on the New York City woman.
Casey Nocket, 23, has been banned for vandalism from all national parks and other federally controlled land — about 20% of the entire nation — after she was exposed by a group of would-be detective Reddit users.
Further to the ban, Nocket has been sentenced to 200 hours of community service and must pay a fine - due to be determined later this year - for drawing faces in acrylic paint in at least seven national parks: Yosemite, Zion, Crater Lake, Death Valley, Colorado National Monument, Canyonlands and Rocky Moutain National Park, according to the National Park Service.
Nocket painted faces — what she called Creepytings — on rock formations and signed and dated them. She posted photos of the work on her blog and Instagram, infuriating people who saw them online or discovered the faces while hiking or camping.
Nocket became known to Reddit users as the "National Park Vandal" as hikers and climbers began posting her paintings on the site.
The campaign grew when Casey Schreiner took screenshots of Nocket's Instagram and Tumblr accounts with her "works" and posted them on his popular site Modern Hiker.
"Ms. Nocket had been enjoying her time in the outdoors so much that she decided to document her trip on Instagram. And apparently Nocket was so moved by all the natural beauty she saw that she just had to paint all over it," an angry Schreiner commented in one of his posts.
Soon afterwards, National Park Service investigator, Steve Yu, reached out to Reddit users for information to track down the graffiti artist. "I'm not sure about the best way to go about this as this is my first case I've worked off of Reddit, but if folks can send what they've grabbed to my email, that would be great," he wrote on Reddit.
Charles Cuvelier, chief of the National Parks Service's law enforcement, said that social media played a key role in the case. "When there are acts of destruction and you make them known at large through social media, that is a powerful tool of investigation," he said.
Nocket was charged with seven counts of injury or depredation against government property in parks in Oregon, California, Utah and Colorado. She pleaded guilty to all. She avoided a prison sentence and as much as hundreds of thousand of dollars in fines following plea deal.
Nocket must also make a formal written apology to the National Park Service. She is banned during her 24-month probation from entering all public lands administered by the National Park Service, United States Forest Service, Bureau of Land Management and US Army Corps of Engineers.
"The American national parks are really, really special," Schreiner told The Guardian. "People have a very strong attachment to these places. For a lot of people, visiting these parks has a very deep impact on who you become as a person. So for a lot of us, seeing these places vandalized feels like a kick in the gut, and it still feels like that."
"The defendant's defacement of multiple rock formations showed a lack of respect for the law and our shared national treasures," acting US Attorney Philip Talbert said in a statement.
The Park Service has already cleared Nocket's creations in five of the seven parks. Staffers expect to remove the Creepytings in Death Valley and Crater Lake soon.