Tottenham manager Harry Redknapp acknowledged that referee Martin Atkinson had apologised to him after the 'ghost goal' that helped Chelsea beat his side 5-1 in the FA Cup semi-final at Wembley on Sunday.
Atkinson ruled that Juan Mata's shot early in the second half had crossed the line when replays clearly showed Benoit Assou-Ekotto had cleared the ball. The goal gave Chelsea a 2-0 lead that helped them seal a place in the final against Liverpool on 5 May.
"He must have guessed [for Chelsea's second goal]," Tottenham manager Redknapp said. "He can't have been sure. He's just made a mistake, unfortunately. A big mistake. I spoke to him. He says he feels worse than I do. I said: 'I don't think so.' But he says he feels bad. He knows he's made a mistake and he says he'll have a bad week as well."
And former Premier League official Graham Poll has offered his support to Atkinson in the wake of his controversial decision but questioned the wisdom of allowing him to officiate in Tuesday's Champions League semi-final first-leg clash between Bayern Munich and Real Madrid.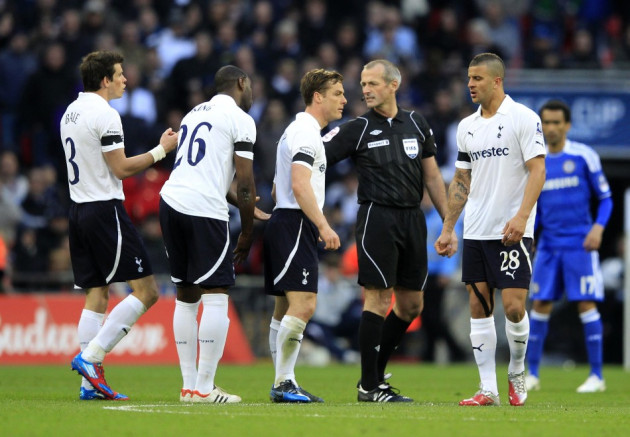 Atkinson will act as Howard Webb's goal-line assistant in Munich tonight and Poll suggested that the official might be better served taking a break from the short break from the game, to ease the burden in an already over-worked schedule.
"Martin Atkinson told Harry Redknapp that he 'felt wretched' following his howler when awarding Chelsea their second goal at Wembley on Sunday," Poll told the Daily Mail.
"Atkinson must have had doubts as soon as he awarded the goal as the reaction of the Spurs players was understandably strong. Despite the apparent lack of honesty on pitches, when a referee errs there is a tangible feeling out there that an injustice has occurred.
"Anthony Taylor, the fourth official at Wembley, was in no position to help as he could not see the error for himself.
"If he knew the ball had not crossed the line, whether via a television floor manager or by seeing a replay somehow, he would not have wanted to tell Atkinson of his mistake in case it affected his performance - remember, the goal was awarded in the 49th minute."
And Poll is perhaps better placed than many to appreciate the impact of Atkinson's embarrassing mistake. The English referee attracted widespread criticism at the 2006 World Cup after he booked Croatia's Josip Simunic three times in a group match against Australia.
"Not a day passes when that incident is not in my thoughts; mind you, I'd rather have done that than award a goal that did not happen, as Atkinson did," said Poll.
"My faux pas did not affect the match in any way, only my career; Atkinson's probably did. I cautioned Simunic in the 61st minute and then again in the 89th minute but did not dismiss him. As soon as I restarted play my fate was sealed.
"I then had cause to caution the player again after the final whistle, which I followed with a red card. I had no idea of my errors, only realising what I had done some 20 minutes after the game when FIFA told me my match report was incorrect.
"I was alone in Germany and could not face training, let alone officiating at another game. Yet Atkinson finds himself in the extraordinary position of flying to Munich to act as a goal-line official for Howard Webb in the Champions League semi-final first leg tonight between Bayern and Real Madrid."