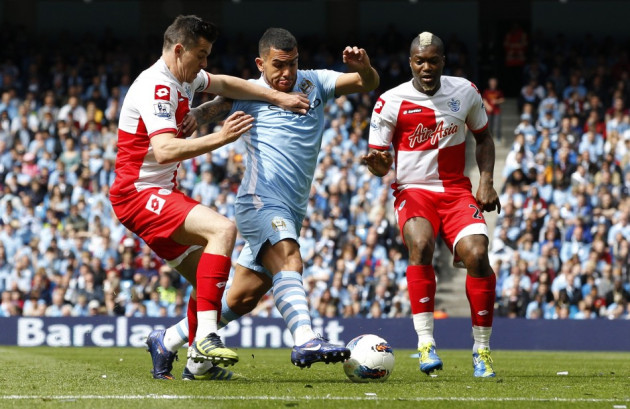 Former Premier League referee Graham Poll believes Queens Park Rangers midfielder Joey Barton faces a lengthy ban for his red card and subsequent retaliations in the 3-2 defeat by Manchester City.
Barton, 29, was sent off for violent conduct after elbowing Carlos Tevez. Following his dismissal the QPR captain then kicked Sergio Aguero, before attempting to head-butt City's Vincent Kompany as he left the pitch. Barton had to be restrained from approaching City substitute Mario Balotelli on the touchline before he finally disappeared down the tunnel.
The QPR midfielder will receive an automatic four-game ban for his second red-card of the season but his conduct upon leaving the pitch is likely to result in further disciplinary action from the FA once it has received the match official's report.
And former Premier League referee Poll remains adamant Barton could yet face a longer ban, when the FA reviews the incident on Monday.
"Not for the first time Joey Barton let down himself, his team-mates and the QPR supporters," Poll told the Daily Mail.
Replays showed that Tevez lashed out at Barton first and the QPR player remained unrepentant and even acknowledged he was trying to get Tevez sent off. In a series of tweets, he wrote: "Can do nothing but apologise to the players and the fans. Still don't think it's a sending off. Tried to take 1 of their players with me." Adding: "Still not my proudest moment but who gives a f*ck, we are safe..........and that is all that matters."
While Barton was defiant, Poll admitted the officials got it right and called on the FA to impose a substantial suspension on the player.
"Barton, with vengeful spite etched all over his face, violently kneed Sergio Aguero and then attempted to head-butt Vincent Kompany," said Poll. "Add up the disciplinary charges and suspensions for next season.
"Four matches for the Tevez incident as it is Barton's second dismissal of the season.
"Add another three for the Aguero assault and perhaps three more for the attempted head-butt and it's at least 10 matches - hopefully more. Who'd want Barton next year?"
Nevertheless, QPR manager Mark Hughes refused to blame his captain for his actions, which threatened to cost his team their place in the Premier League had Bolton Wanderers managed to beat Stoke City.
"We were disappointed we lost Joey to a sending-off which shouldn't have happened. But that's the only negative on an otherwise fantastic day for QPR," said Hughes. "He should have been sent off, without a shadow of a doubt. Absolutely.
"I understand there will be a lot of comments about what happened and Joey and his behaviour but please forgive me, I'd rather just concentrate on what we did. I thought it was fantastic the way the guys stuck at it in unbelievable circumstances and we nearly did it."