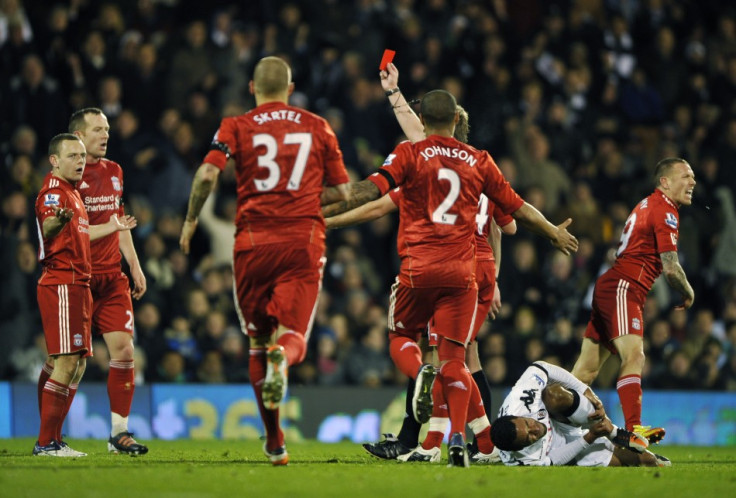 Former Premier League referee Graham Poll believes Kevin Friend was right to send off Liverpool midfielder Jay Spearing during Monday night's encounter at Craven Cottage.
Liverpool lost the match 1-0 after Spearing was dismissed for a robust tackle on Moussa Dembele in the second half, and although the red card has divided opinion, Poll believes it was the correct decision despite the protestations of Kenny Dalglish.
Poll suggests the Liverpool midfielder "was out of control" when he made the challenge thus endangering the aforementioned Fulham star.
The former Premier League referee claims the main function of an official is to protect players from injury and therefore the Liverpool midfielder, who was starting his first league game of the season following the injury sustained by Lucas Leiva, left Friend with little option but to send him off.
"Kevin Friend was right to dismiss Jay Spearing for his lunging challenge on Moussa Dembele despite the fact the Liverpool man played the ball before catching his opponent." Poll told the Daily Mail.
"Spearing was out of control of his forward movement and the force at which he caught the Fulham forward led Friend to dismiss him for serious foul play.
"The primary concern for a referee is the safety of the players and if a reckless challenge endangers that safety then the player must be sent off."
Replays suggested the Liverpool midfielder got the ball before the man, but Poll intimates it was Spearing's follow-through that was the primary reason behind the red card.
"Looking at the pictures it is hard to disagree that the challenge was reckless and endangered Dembele's safety. I have long argued that playing the ball does not make a player exempt from disciplinary action; the challenge from Spearing proves that."
Typically the two managers from last night's encounter had conflicting view points of the decisive incident. Liverpool boss Kenny Dalgish believes his 23-year-old midfielder was incredibly unfortunate to be dismissed for the tackle.
"Jay never had another thought in his mind but to win the ball - and he did win it." The Liverpool manager told The Sun.
"As long as referees are consistent, it's not a problem. But I don't think we were going to get anything tonight, were we?"
Fulham boss Martin Jol, however believes the Liverpool midfielder left the referee no choice but to send him off.
"I saw it from three angles and it was a bad one. He could have broken his ankle - I think it was a sending off." Jol concluded.