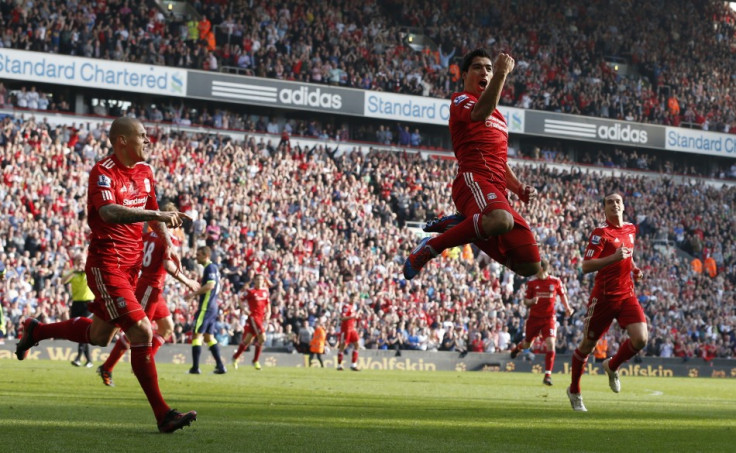 Former Premier League referee Graham Poll believes Lee Mason was correct to disallow Luis Suarez's goal for handball, as Wigan beat Liverpool at Anfield.
The Latics gave their survival hopes a significant boost with a well-deserved 2-1 win on Saturday, as Kenny Dalglish's side suffered their fifth defeat in six Premier League games.
Suarez thought he had given Liverpool the lead when he put the ball in the back of the net in the 53rd minute. However, referee Mason disallowed the goal after he ruled the Uruguayan handled the ball over the line.
The Liverpool striker was booked for the offence and replays confirmed Mason's decision was correct. A late winner from Wigan captain Gary Caldwell eased the club's relegation fears and Poll has praised Mason's handling of the situation in a difficult weekend for referees.
"Planes landing safely, trains pulling in on time and motorways being clear of traffic don't make the news; nor do referees getting decisions correct," Poll told the Daily Mail. ["But] Lee Mason was in top form at Anfield awarding a penalty to Wigan and disallowing Suarez's 'goal'.
"The Liverpool striker does nothing to endear himself to English crowds, each week finding a new way to provoke negative feelings.
"Scoring with a hand is not new but when added to diving, refusal of handshakes and 'racist' slurs makes the Uruguayan hard to like."
Liverpool dominated the early exchanges on Saturday but once again failed to create any opportunities in the final third and fell behind through a Wigan penalty. The home side failed to clear a free kick and, when the ball was pumped back into the box, Martin Skrtel caught Victor Moses with a rash, high challenge.
And Poll remains adamant that Mason made the right call in awarding a penalty, despite Liverpool's players protesting the offence warranted an indirect free-kick.
"Lee Mason was also spot on in awarding Wigan their penalty as a number of observers thought Martin Skrtel's high boot should have been seen as dangerous play and therefore only an indirect free kick awarded," Poll added.
"However, when contact is made by a high boot then the free kick must be direct; the way that Moses' head jerked back made it clear that the Liverpool man had kicked him hence the penalty kick."