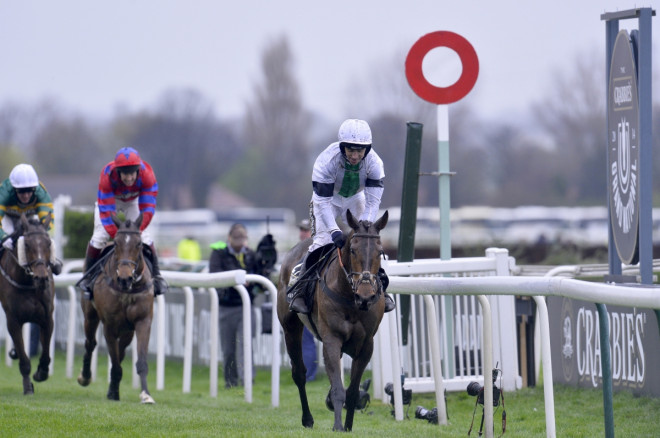 Pineau De Re, ridden by Leighton Aspell, has won the 167th Grand National at Aintree.
The 11-year-old horse, whose odds were 25-1, finished ahead of second place Balthazar King (14-1) and Double Seven, the joint favourite at 10-1.
Overall, 18 of the 40 runners finished the race. Early indicators suggest none of the horses were seriously injured.
Following his victory, Aspell, who recently came out of retirement, said it had been a "wonderful day".
He added: "I was very conscious that I didn't want to be in front too soon over four-and-a-half miles. He's a small horse, so he finds jumping hard enough.
"When I got a bit of daylight I knew I'd be fine because that was my only worry, a lack of daylight.
"Once he was in daylight he really enjoyed that part of the race."
Aspell finished second at the National in 2003 with Supreme Glory.
Pineau De Re owner Dr Richard Newland told the BBC: "We are so lucky to have such a lovely horse. It's a dream come true - a dream that we've had for about 30 years."
Teaforthree, the 10-1 joint favourite, fell at The Chair. He came third in last year's race.
A British Horseracing Authority spokeperson said: "There are no immediate concerns to report for either jockeys or horses following the 2014 Crabbie's Grand National."
Grand National Full Result

1)Pineau De Re (25-1)
2)Balthazar King (14-1)
3)Double Seven (10-1)
4)Alvarado (33-1)
5)Rocky Creek (16-1)
6)Chance Du Roy
7)Monbeg Dude
8)Raz De Maree
9)Swing Bill
10)Kruzhlinin
11)Buckers Bridge
12)The Package
13)Vespers Bell
14)Across The Bay
15)Mr Moonshine
16)Prince De Beauchene
17)Hunt Ball
18)Hawkes Point
Did Not Finish

Our Father
Rose Of The Moon
Burton Point
Wayward Prince
Lion Na Bearnai
Vintage Star
Walkon
Teaforthree
Shakalakaboomboom
The Rainbow Hunter
Mountainous
Battle Group
Last Time D'Albain
Triolo D'Alene
Colbert Station
Tidal Bay
Twirling Magnet
Quito De La Roque
Big Shu
Long Run
Golan Way
One In A Milan