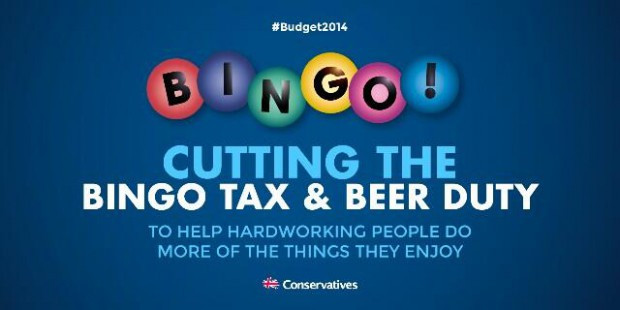 The day after the most important Tory budget for years and party chairman Grant Shapps has done to chancellor George Osborne what Labour could only dream of.
In an extraordinarily ill-judged Twitter graphic he declared "cutting the bingo tax and beer duty" was helping "hardworking people do more of the things they enjoy".
Within seconds it had gone viral, and not in the way Shapps might have intended.
The wording of the graphic played directly into the Labour claim that the Tory government had a "them and us" attitude towards the working classes who, they believed, spent all their spare time in bingo halls and the pub.
The infamous picture of Cameron and Osborne in their Bullingdon club days decked out in frock coats looking down on the beer-drinking, bingo-playing lower orders was hard to dispel and there was an instant outbreak of twitter spoofs following the posting.
Talk that Shapps was now living on borrowed time until the expected summer re-shuffle instantly re-surfaced, with the prime minister's spokesman forced to say Cameron had confidence in him.
Suggestions that the tweet was a foretaste of the election campaign Shapps was planning to run were quickly dismissed.
And Osborne, instead of simply basking in the overwhelmingly positive coverage for his budget, was left struggling to hide his fury at the way Shapps had stirred up precisely the image of a cabinet of "out of touch Eton boys" he was trying to shed.
He was challenged about the graphic on a series of media interviews and insisted the bingo and beer tax cuts were important, adding: "These industries employ many thousands of people, but they weren't the only things in the Budget."
It also helped overshadow what had been a particularly poor performance by Labour leader Ed Miliband, who had virtually nothing to say about the package in his response and, along with Balls, been thrown firmly onto the back foot seeking a coherent counter-attack.
While the Tories attempted to regain the initiative, brushing aside the tweet and pointing out Labour had no response to the budget, their Liberal Democrat allies were scathing.
Treasury secretary Danny Alexander said he initially thought the graphic was a spoof and demeaning of an otherwise good budget, adding: "It may be our Budget but it is their (the Conservatives') words."
Shadow chancellor Ed Balls branded it patronising, adding: "I can't believe the chancellor. Did he really sign this advert off. Does he really think that he can just say to working people, well look bingo and beer that's all you care about."
The irritation that the relatively minor issue had escalated into a full-scale media story was palpable in government circles.
But Osborne is banking on it being a one-day wonder and that the hugely-significant measures in his budget will still command attention and prove a vote-winner as both the Euro and general elections approach.