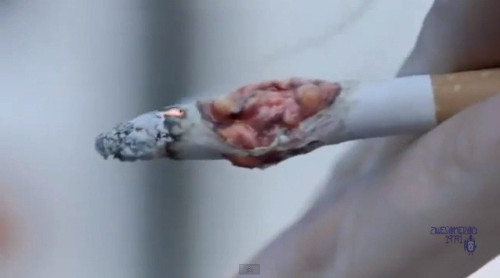 A new hard-hitting anti-smoking health campaign has been launched in the UK, highlighting the damage tobacco does to vital organs in a bid to scare smokers into giving up the habit.
The graphic TV adverts show images of polluted blood flowing through the body of a smoker and damaging cells in his brain, while the billboard posters show blood dripping from a cigarette, with the warning that smoke makes blood "dirty and thick with toxins."
While the long-term damage to the lungs is commonly known, the campaign aims to create awareness amongst smokers of the risks of developing memory problems and dementia and suffering a stroke. Smokers are twice as likely to die of stroke as non-smokers.
Chief Medical Officer Prof Dame Sally Davies said: "We know about the serious effect smoking has on the heart and lungs but smokers need to be aware of how much potential damage is being done to the brain and other vital organs through toxins in cigarettes entering the blood.
"Smoking is the major cause of premature death, with one in two smokers dying prematurely from smoking-related diseases, and it is extremely worrying that people still underestimate the health harms associated with it."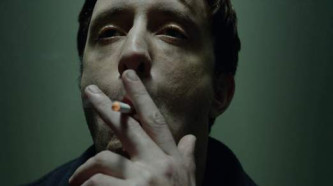 Professor Kevin Fenton, national director for health and wellbeing for Public Health England, told BBC News: "Tar, arsenic, ammonia, hydrogen cyanide - these all have either effects that they can cause cancers or they can cause significant amounts of damage to the lining of blood vessels.
"We really want to draw attention to that toxic nature of cigarette smoke and the ways it can be dealt with - which are either to stop smoking or to switch to healthier nicotine delivery systems - for example nicotine patches etc."
Prof Fenton added more needed to be done to encourage people to quit smoking.
"That's why this campaign is so important - and doing it at the time of the New Year when people are making resolutions really will help to support many smokers to make that decision to quit."
"If you could see the damage, you'd stop", say the adverts, aimed at encouraging smokers to quit.
The new campaign goes live on 30 December and offers support, advice and a range of tools for anyone looking to stop smoking.
Government figures show more than one in five adults in the UK admit to smoking, at an estimated cost to the economy of £5bn per year in health costs, sick leave and lost productivity.