TV presenter Sue Perkins has said she is taking a break from Twitter after receiving threats over reports she was replacing Jeremy Clarkson on Top Gear.
Perkins, who presents BBC One's The Great British Bake Off, was among several names being speculated over as possible replacements for Clarkson.
Clarkson was dropped by the BBC in March after a "fracas" during which he punched producer Oisin Tymon.
Perkins said she is "off Twitter for a bit".
The presenter, who has 574,000 followers on Twitter, described the suggestion that she was taking the Top Gear job as an "utterly fabricated story".
She tweeted that some of the threats she had received included someone who "suggested they'd like to see me burn to death", while her timeline "has been full of blokes wishing me dead".
Last week she was announced as being the bookmakers' favourite to replace Clarkson.
Bookmakers Coral said she was the front-runner for the job, followed by Dermot O'Leary and then Jodie Kidd.
A wave of support
Perkins has had a flood of support online for her decision, with Susan Philcox tweeting: "Totally unacceptable. Something must be done about these vile people. This isn't freedom of speech, it's abuse."
Oooh Things added: "They are absolute scum, please don't let them bully you off here. You are awesome and brilliant."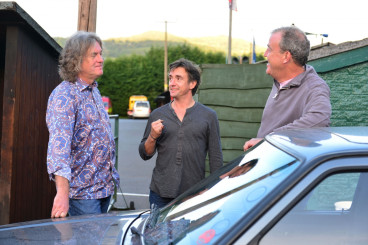 Chris Tomson showed support by saying: "This is vile. Those lowlife cretins should be ashamed of themselves."
But Henry Uchenna wrote: "If you get off Twitter because of a threat then the threat has worked. Don't give credence to mediocrity."
The presenter's agent told the BBC she had no further comment to make.
Perkins fronts several other TV shows, including programmes on travel and the Edinburgh Festival on BBC Two and a Sky Atlantic Game of Thrones live discussion spin-off called Thronecast.
She also presents an afternoon chat show on ITV with Bake Off co-star Mel Giedroyc and fronts and appears on shows for BBC Radio 4.