Greece crisis: 'Even Palestinians feel sorry for us'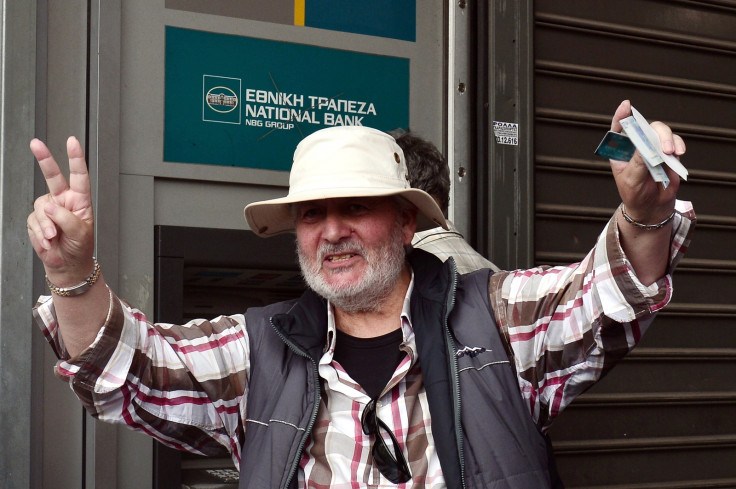 "I withdrew as much as I could from the ATM machine over the weekend to be sure that I could have enough money to spend on food for the coming month," 32-year-old Varvara Vasilaki told IBTimes UK from Athens.
"I think it will be difficult. I paid by my debit card to buy fuel and food such as pasta and rice in order to survive if worse days come. Supermarkets are full and people are queuing in front of the ATM machines. Everyone is disappointed and some are expecting the worst to happen."
Greece is facing an existential crisis. The emergency cash Greece needs to pay its debts will not come. Months of negotiations between the Syriza-led government, a far-left administration elected in January 2015, and the country's weary creditors – a troika of the European Commission, European Central Bank (ECB) and International Monetary Fund (IMF) – have failed.
The troika is demanding economic reform and public spending cuts in exchange for more loans. But Greek people have suffered under the weight of austerity. Unemployment spiked, incomes tumbled and the cost of living soared. Around half of all Greek young people of working age are unemployed.
Syriza, led by Alexis Tsipras, was elected on the back of an intense unhappiness with the austerity many Greeks feel is imposed, unfair and counterproductive because it is holding the economy back. The creditors argue the Greek economy is unsustainable, so the tough reforms are a necessary burden. There are no good options.
It is a stalemate. Greece and its creditors cannot agree terms. So Tsipras has called a referendum on whether or not the country should accept its creditors' arguments for more austerity and reform.
The president of the European Commission, Jean-Claude Juncker, has said this is in effect a referendum on Greece's membership of the eurozone. If it votes no, it will end up exiting the euro, something polls suggest most Greek people do not want to happen.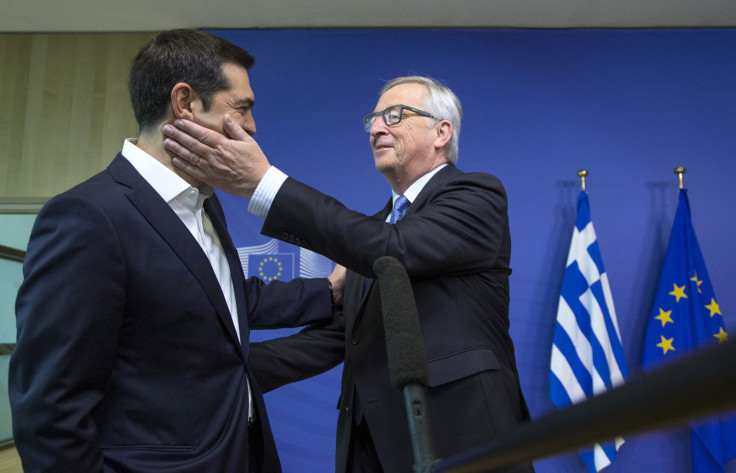 Billions of euros have already been withdrawn over the past few months by Greek depositors, fearful that they will otherwise lose their money if the economy goes under. Many have exchanged bank accounts for bedroom drawers. After talks between the creditors and Greek government collapsed, the ECB froze its emergency liquidity programme for Greek banks.
To stop the banking system crashing ahead of the referendum, as panicked Greeks pull out their money, the Greek government introduced capital controls. It restricted the total amount each Greek national can withdraw in cash at an ATM to €60 (£42, $67) a day. Nor can they make foreign transfers to spirit their money out of Greece via the internet.
Kostas Bouloukos, 35, a computer and networks technician from Athens, says he pulled almost all of his money out of the bank. He only has €48 left in his account.
"Sixty euros a day is adequate for someone to spend on food, fuel, the occasional purchase for home, but for people who don't have access to a credit card or who can't use web banking, any sort of more substantial purchase is going to be hard," he says.
"Also take into account the fact that a large part of the Greek economy is [a] cash-in-hand 'black' market, e.g if I have to call a plumber or an electrician to fix something in my house he's not going to accept a credit card. Same thing with cleaners, or housemaids, or people who take care of the elderly etc."
Zoe Koustoumpardi, 26, works at the London School of Economics (LSE) after leaving Greece to study in the UK several years ago.
"I spoke to my mother, I spoke to my father, and they've learnt to adopt such a wait-and-see approach that sometimes it feels I'm more nervous for them than they are," she says.
"Because no one really knows what's going to happen. There's so much uncertainty."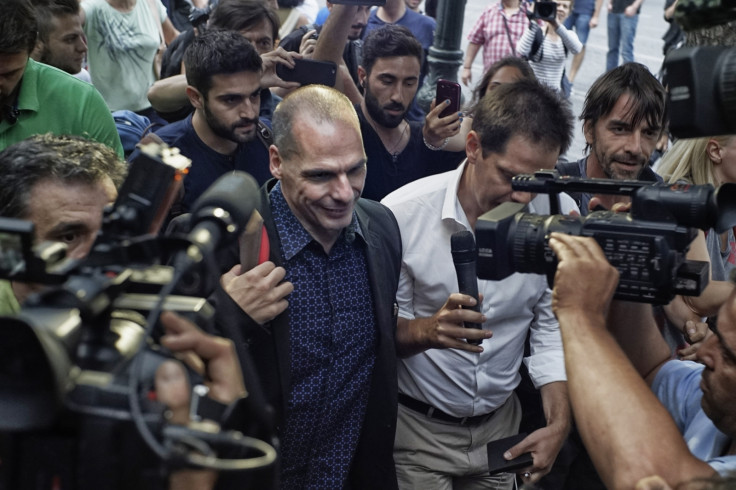 Palestinian pity
Vasilaki is an assistant programme officer for an NGO which works for the development of clean and sustainable water sources across the world.
"Last week, I was in Palestine for the work of a regional project on water governance and financing," Vasilaki says.
"Palestinians were telling me that they felt so sorry for us and that they wouldn't want to live here in Athens as the crisis deepens and that they preferred to live in Ramallah with the usual problems of living there."
Vasilaki is frustrated by the negotiations between the troika and her government. Austerity has failed, she says, so even more would only make things worse.
"I feel that we lost any dignity left, that our debt is not viable and we have nothing else to lose now," she says.
'We are not lazy Greeks'
Europe has a bad image of Greece, says Iro Kottika, a 32-year-old dietician from Patras, the Hellenic Republic's third largest city.
"We are not the lazy Greeks drinking coffee all the time. Most of my friends work like crazy from morning till night," Kottika tells IBTimes UK.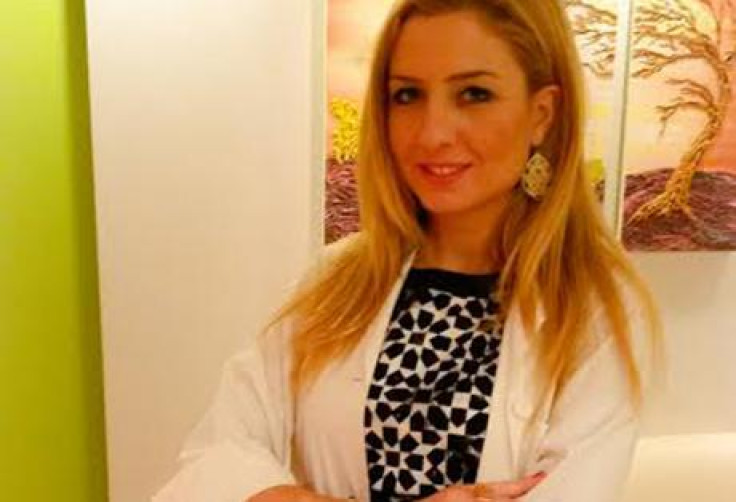 Iro Kottika
IK
Greeks are working harder than ever, she adds. Harder than other Europeans. On top of that, they are forced to pay "unbearable" taxes to their broke government and face an ever more expensive cost of living. Things are set to get worse.
"For those working until today we had to pay too much, but still had a good level of life," Kottika says.
"Now we do not know who to trust. We feel that neither [the] Eurogroup nor the Greek government are telling the full truth and that they play games behind our backs."
Fotis Boutzi, 19, is a business administration student at the University of Macedonia in Thessaloniki, Greece's second largest city. Wages are not necessarily the problem, he says, rather the high taxes Greeks must pay as the country tries to balance its books.
Property taxes, road taxes, VAT, income tax – all have been raised over the past few years as Greece wrestles with a budget deficit and a huge pile of public debt built up by past governments.
"As a young man that lives with his family, it is hard to see your parents living like this," Boutzi says.
"They give me more money than I actually need just to see me having good time, to have a coffee, to have a drink, but they stop all their activities and their hobbies to give me and my little sister all that we want to have.
"I try hard to find a job, even a summer job, just to stop asking money from parents. Firstly, because I have to start being more independent, but mostly because it is hard to be helpless."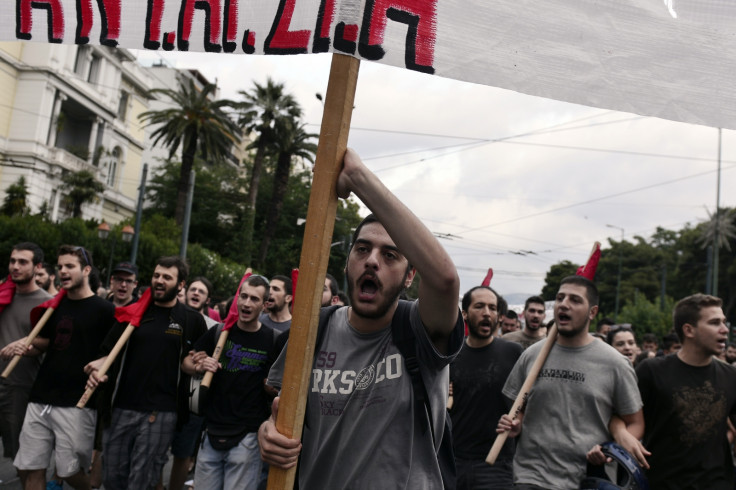 Bouloukos says the "most soul-crushing thing about all this is that I feel like I cannot make plans for the future".
"Everything around us has this air of uncertainty that makes it almost impossible to plan your life," the Athenian says.
"I believe that the failure of the talks with the troika is mostly because of the government's inability to overcome its ideological barriers and deal with the EU on the terms of the currently dominant economic system in Europe.
"How can you talk with numbers and financial tools when your world-theory mandates the return of socialism and the enlargement of the state in all aspects of life? The troika and the Greek government speak a different language and it's painfully obvious."
Referendum
On 5 July, as it stands, Greece will hold a referendum. The exact details are unclear. The Greek government say it is about whether or not it should accept the creditors' demands of more austerity in exchange for more bailout loans. Eurozone leaders are suggesting the referendum is much more than that: it will be an existential vote on whether or not Greece wants to keep the euro. Until the question is published, Greeks will remain unsure.
"My main concern is that people do not know what they have been called to vote for in just a weeks time," Koustoumpardi says.
"These are complex macroeconomic measures that have not been made readily available to the public, and neither have the realistic implications of a 'yes' or 'no' vote. There is so much uncertainty."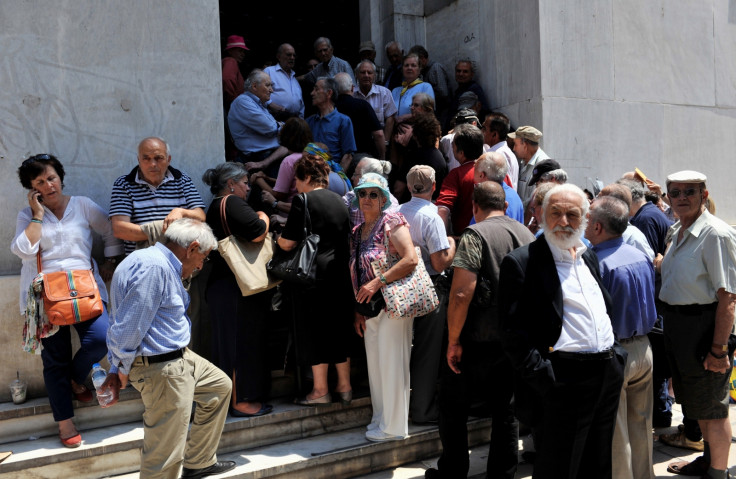 Kottika is one of the unsure. She says she knows what will happen if she votes yes, in support of the creditors, because Greece will remain in the eurozone, at least for the time being. But she does not know what will happen if she votes no to the creditors.
"I do not think that things will change to better with a yes, we will just prolong for ages the current crisis, pay a debt forever (which is not new generation's fault). With no.....God knows!"
Bouloukos knows exactly where he stands. He will vote yes "because I firmly believe that this country's future is inside the EU and because I want Greece to have deep, healthy changes in its economy and escape from this cesspool of corruption, populism and mediocrity".
"The only way to do that is to be held to high standards at all times and this can only be accomplished within the EU," he says.
Whatever happens, Koustoumpardi is staying put in London. Her head is in the UK, but her heart is still with Greece, where she grew up and most of her family still live.
"These last two years have completely changed my mind, so now I would say that I have left for good," she says.
"Going back would almost be career suicide. Greece is always on my mind [...] It's been very hard to reach the realisation that things are not going to be the same. At least not in the next 10 or 20 years for me."
© Copyright IBTimes 2023. All rights reserved.