Greece debt crisis: EU officials scurry over specifics of deal as leaders sidestep repayment plans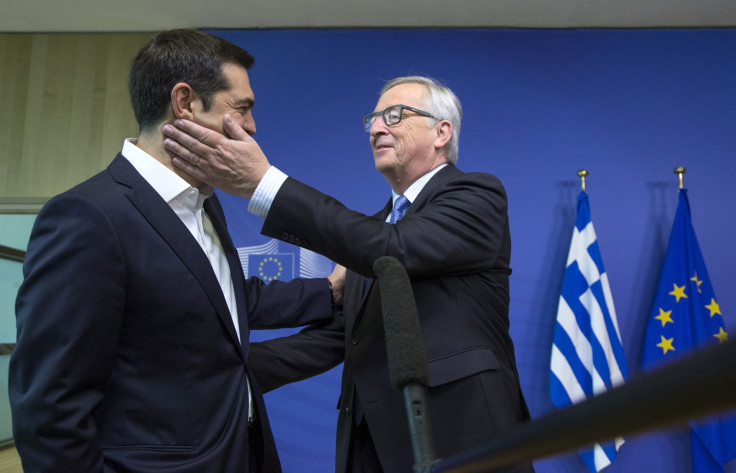 Greece's renewed show of willingness at the emergency summit in Brussels has left European authorities to scurry through the specifics of a possible bailout deal to prevent Athens defaulting on its debt, even as the leaders swiftly evade questions on the country's full repayment plans.
Alexis Tsipras, the Greek Prime Minister who came to power riding on the wave of anti-austerity sentiments in the debt-ridden European nation, has given ground on at least two issues which had kept him on a five-month impasse with his international creditors.
No doubt the positive development – spurred by Greece's offer to cut its pension bill and raise extra money through VAT – at the summit has brought in fresh air to the ongoing negotiations, but European paymasters are not yet ready to discuss how they would make Greece fully repay its towering debts.
When asked about the plans, European Commission chief Jean-Claude Juncker said it "wasn't the time to discuss" the specifics of the debt repayment plans.
Greece must repay €1.6bn (£1.1bn) to the IMF before 30 June. With no silver lining in immediate sight it owes its creditors €3.9bn in July and €3.2bn in August. If Greece fails to pay its IMF loan, it runs the risk of crashing out from the single-currency zone and potentially the EU.
Leaders of 19 eurozone nations are in Brussels to iron out a deal with Greece, which is on the brink of bankruptcy, to keep it in the euro.
Angela Merkel, the Chancellor of economic powerhouse Germany, has said the debt issue is "not open for debate" making it clear there will be no debt reduction, as demanded by Greece.
Despite the widespread optimism, mostly cautious, of the Eurogroup conference on Monday, 22 June German finance minister Wolfgang Schäuble remained sceptic and insisted there was no new offer from Greece.
The eurozone finance ministers, chaired by Dutchman Jeroen Dijsselbloem, are scheduled to meet again on Wednesday, 24 June, leaving just 48 hours for the officials to evaluate and finalise the proposal.
"My aim is a deal by the end of the week. We are working day and night for this," Juncker told reporters.
If the finance ministers give a green signal to the deal, the European leaders could ratify the agreement as early as Thursday, 25 June when they meet for a two-day summit in Brussels.
Meanwhile, following the late-night talks, Greece has signalled it could agree to extend its bailout programme provided the creditors extend "the current programme to have elements that solve [Greece's] funding problems as well", according to government spokesman Gabriel Sakellaridis, who spoke to Mega TV.
© Copyright IBTimes 2023. All rights reserved.