France's prime minister has criticised former president Nicolas Sarkozy over comments he made about Greece's decision earlier this week to refuse most conditions of the International Monetary Fund deal.
On 1 July, Sarkozy lashed against the "irresponsible policy" of the Greek government, led by Prime Minister Alexis Tsipras. In an interview with Le Monde, the former head of state blamed Tsipras for having the "entire responsibility" over a potential Greek exit from the eurozone.
"The exclusion of a member country may have consequences so serious that no one can really understand," Sarkozy said, before criticising the "irresponsible policies" of a "Greek government who refuses any reasonable attitude".
"This is a paradigm shift that led the Greek government to de facto hang up the Greek membership in the euro area. Alexis Tsipras carries the entire responsibility. Who left the meeting of finance ministers except the Greek finance minister ? Who refused all proposals made? This is the first result of an irresponsible policy," Sarkozy said.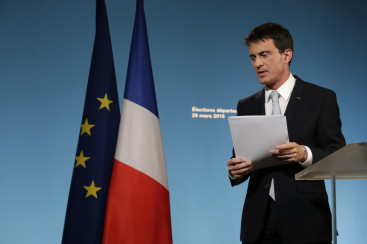 Sarkozy controversy hamper Greek debate
Current socialist prime minister Manuel Valls, however, condemned Sarkozy's comments in a speech to the National Assembly on 2 July.
"During these very delicate hours of discussions, negotiations where it is possible to hope for an agreement, but where we have to acknowledge that things remain fragile, I invite everyone to exercise restraint, responsibility and calm," Valls said.
"I would like to challenge every declaration of every person, notably those of a former president of the republic, who declared that Greece has de facto come out of the eurozone. His controversies, his too prompt analysis hamper the debate."
President Francois Hollande's government, Valls added, "is not in the controversy", as French leaders resume talks with Germany and Greece's main creditors to speed up efforts to reach a deal with Athens.
On 30 June, Greece became the first advanced state to default on an International Monetary Fund loan, failing to repay a €1.6bn (£1.1bn) tranche. Having not paid, Greece finds itself without a financial safety net as €240bn of bailout funding has ended with no new arrangement in place.
Tsipras has called a referendum for 5 July to determine whether Greece should accept a cash-for-reform deal that would unlock a much-needed €7.2bn worth of funds.
Athens, however, has refused to accepted its creditors' terms, which include swinging cuts to pensions, a rise in VAT and the slashing of public sector jobs.