Greece debt crisis: Tourists panic about access to cash as ATMs run out of money
Tourists in Greece have spoken of their worries over access to cash as the closure of the country's banks leads to ATMs across the nation running out of money.
The country's ongoing debt crisis saw Greek Prime Minister Alexis Tsipras order banks to close for a week. Capital controls have been enforced, with a daily limit of €60 (£40) imposed on cash withdrawals by Greek citizens from cash machines.
Long lines of people have queued outside cash machines in the country, with reports that ATMs are running out of money. One banking source reported on 29 June that only 40% of cash machines in the country had money in them.
Tourists are meant to be exempt from these capital controls, but some reported in Athens that they were still struggling to gain access to cash. Deidre Lloyd had travelled to the country from Florida with her family, but told Reuters that she was concerned about withdrawing enough cash during her stay.
"Yes, we are worried. We just arrived today and we were able to get some cash from the ATM. We didn't have much cash with us when we came. We waited in line for quite a little while and then we were able to get €200 off of an international card. The people in line with us thought we would be able to use whatever the limit of our home bank was but we weren't able to do that," she said.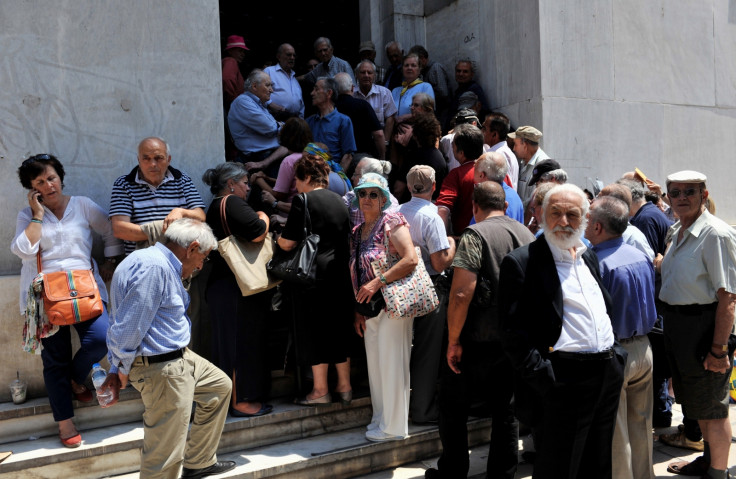 Tracey Kerr, a tourist visiting from the UK, said that she had brought money with her in preparation.
"We were concerned for this reason. We knew that at some point something was going to happen. To make sure that we are OK we did bring enough cash to last us the whole trip," she said.
The Greek government has announced that its banks will be kept closed for a week until after the 5 July referendum, in which the public will vote on whether they accept the terms offered by international creditors. Tsipras has called for an overwhelming "no" vote at the referendum.
The emergency measures were put in place after the European Central Bank (ECB) refused to increase additional funding to the country. Greece must repay €1.6bn to the IMF before 10pm GMT on 30 June, the same day that the current bailout expires. The country risks defaulting and leaving the eurozone.
© Copyright IBTimes 2023. All rights reserved.