Some of London's most well-known monuments have been targeted by a group of Greenpeace UK activists in the environmental group's latest stunt on the morning of 18 April.
A group of six protesters have scaled Nelson's Column in Trafalgar Square, and remain at the top of the monument at the time of reporting.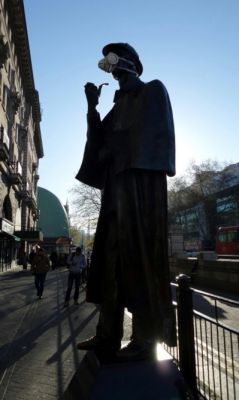 A spokesman for the Metropolitan Police told IBTimes UK: "There are a group of about six protesters who climbed the column at about 4.10 am BST, they remain there and officers are in attendance.
"There have been no arrests at this time." Other emergency services, including the fire and ambulance service, are also in attendance.
A gas mask has been put over the statue of Oliver Cromwell outside the House of Commons, leading to four arrests.
Gas masks have also been placed on the statues of Sherlock Holmes in Marylebone and war hero Sir Winston Churchill in Parliament Square.
The actions are part of Greenpeace's 'Clean Air Now' campaign, which calls on David Cameron to develop an action plan to tackle the issue.
"Air pollution in the UK is responsible for cutting short 40,000 lives every year. It's now a public health crisis, where children, the elderly and the most vulnerable people in our society are most affected by dangerous and toxic air," a statement on Greenpeace UK's website said.
"There isn't a technological barrier stopping us from breathing cleaner air, we have the science and the tech know-how to put a stop to this crisis, what's stopping us is lack of action from our politicians."