Environmental group Greenpeace has taken the fracking fight to Parliament – erecting a lifelike rig complete with flames and sound effects outside the Palace of Westminster.
The group's protest comes as the independent Planning Inspectorate begins its inquiry into whether fracking will go ahead in Lancashire, following an appeal against the county council's decision to reject fracking by energy company Cuadrilla.
Decisions on the future of controversial hydraulic fracturing – a process of drilling into the ground to inject high-pressure liquid into rock to widen cracks and extract natural gas – in Lancashire will be down to Secretary of State for Communities and Local Government Greg Clark.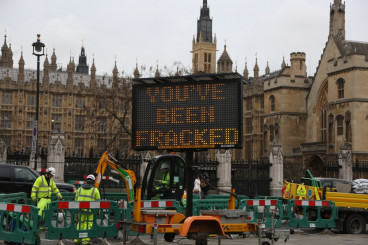 A letter to Lancashire County Council last November signed on behalf of the MP and published in the Blackpool Gazette stated: "The secretary of state hereby directs that he shall determine these appeals instead of an inspector."
It continued: "The reason for this direction is because the drilling appeals involve proposals for exploring and developing shale gas which amount to proposals for development of major importance having more than local significance and proposals which raise important or novel issues of development control, and/or legal difficulties."
Greenpeace has been vocal in its criticism of both fracking and the MP for Tunbridge Wells, who the charity says is going against his previous support for the idea of local decision-making.
The rig – which is reportedly sending noise reverberating around Parliament – will remain in place until at least 5pm on 9 February, accompanied by Greenpeace protesters.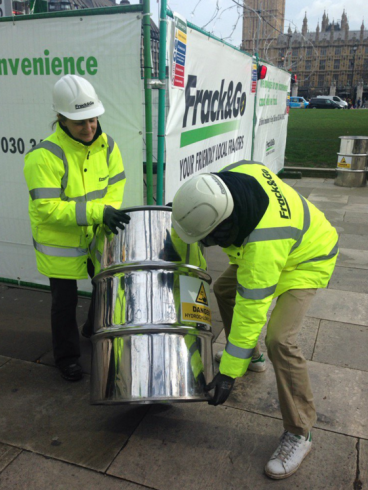 Hannah Martin, Greenpeace campaigner, said: "We are here to fight for the future of the English countryside. Ministers are pushing aside local democracy to bulldoze through their unpopular fracking plans.
"We have installed a lifelike fracking rig and drill at Parliament Square to show them what people in Lancashire and beyond will have to endure if so-called Communities Minister Greg Clark forces fracking on a reluctant nation.
"This is an affront to local democracy and shows a lack of respect for people's wishes. People who love and live in the countryside and who care about climate change will not stand for a government riding roughshod over democracy to industrialise our landscape and damage the climate."
Greg Clark had not responded to IBTimes' request for a comment at the time of going to press.