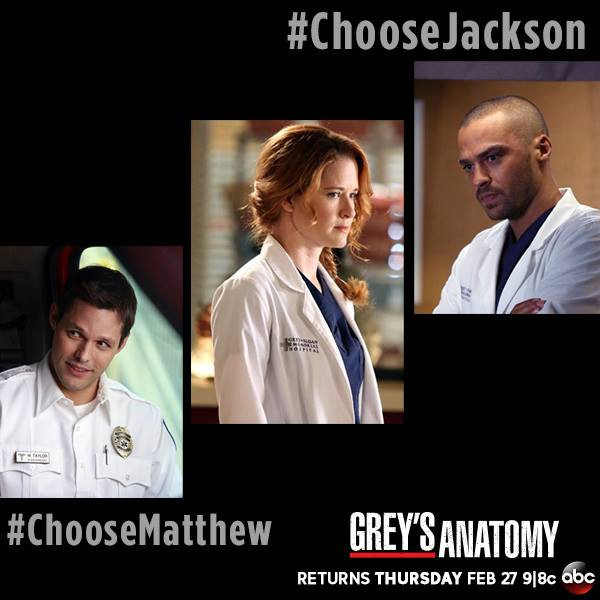 New episode of Grey's Anatomy airs today, finally ending the long mid-season hiatus the show has been on. Fans will hopefully get the much-awaited answer to which guy April chooses.
Ahead of the episode, Sarah Drew who plays April on the show shared her thoughts on the conflict and revealed who she would have ideally picked between the two men.
The shows last episode, before the series went on a break, ended after Jackson (Jesse Williams) boldly interrupted April's nuptials to Matthew (Justin Bruening) by declaring his love for her. Ever since, social media has been abuzz with speculations around who April will eventually end up with – the sweet paramedic Matthew or her best friend, Jackson.
Drew, in an interview with The Hollywood Reporter gave a glimpse into what her beloved character's choice might be. "I would set her up with Matthew," said the actress.
"They are on the same page about big life things, the way they look at the world and the way they share the same space. They agree with each other on a lot of things -- and he's incredibly romantic, beautiful and he's so good to her. He sees the things that are beautiful in her that a lot of people write off or roll their eyes at. He's a great person for April," she said.
When asked why she feels Jackson is not more suited for April she said, "I think someone who is not living inside of April's soul from the outside would pick Matthew for April. A lot of times people have to make that decision for what they consider the better partnership in terms of sharing life together."
Meanwhile, during an interview with Popsugar, Camilla Luddington who plays Dr. Jo Wilson on the show, spoke about some of the "dramatic" twists ahead including a baby coming into the picture:
"Jo is not having a baby. Let's clear that up right now! She is with Stephanie (Jerrika Hinton), comforting Stephanie — by the dumpsters, which is like the new, cool intern hangout. And they find a baby that has been left in a box. Jo's actually not on pediatrics, and she really obviously wants to be part of that case and help the baby because she was left abandoned as a child, so all of her feelings about that [come out]," she said.