The grieving father of a student killed last week during the Florida school shooting told Donald Trump that the country has "failed our children" and that the president's administration should prevent such shootings from occurring again.
"We as a country failed our children. This shouldn't happen," Andrew Pollack told the president during a listening session Wednesday (21 February) at the White House.
Pollack's daughter, Meadow Pollack, was killed along with 16 others at Marjory Stoneman Douglas High School in Parkland, Florida.
"It stops here with this administration and me," he continued. "It should have been one school shooting and we should have fixed it. I'm pissed. Because my daughter, I'm not going to see again. She's not here. ...It's enough. Let's get together, work with the president and fix the schools."
He said the US reacted swiftly to the terrorist attacks on September 11, 2001. "I'm very angry that this happened because it keeps happening. 9/11 happened once and they fixed everything. How many schools, how many children have to get shot?" he asked.
"I can't get on a plane with a bottle of water but some animal can come into a school and shoot our children."
After listening to a series of emotional stories and please to increase school safety, the president floated the idea of arming teachers and school staff.
"If you had a teacher who was adept with the firearm, they could end the attack very quickly," Trump said. He added that schools could arm up to 20% of their teachers to stop "maniacs" that try to attack them.
Pollack's son Hunter appeared to support the idea. "We need more security, we need more firearms on campus, we need better background checks, and we need to study more on mental health," he said.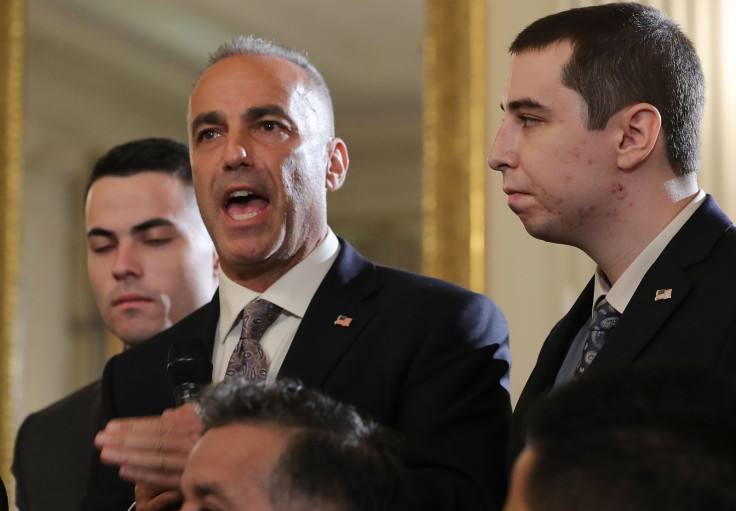 Fred Abt, the father of Parkland shooting survivor Carson Abt, spoke with Education Secretary Betsy Devos about having firearms locked on school campuses in case of a shooting.
According to CNN, not all those in attendance agreed. Nicole Hockley, who lost her six-year-old son in the 2012 Sandy Hook elementary school shooting, told Trump that she would rather see teachers equipped with way to prevent shootings from happening instead of with a firearm.
"Let's talk about prevention," she said. "There is so much we can do to help this person before we reach this point."
Trump pledged to work on addressing school shootings after the listening session. "We don't want others to go through the kind of pain you have gone through," he said. "It wouldn't be right."