At least 15 people have been killed and many others injured after a shooter went on the rampage at a high school in Florida.
The attack began around 3pm local time on Wednesday (14 February) at Marjory Stoneman Douglas High School in Coral Springs which was soon put on a "code red" lockdown when authorities arrived at the scene.
The Broward Sheriff's Office Scott Israel confirmed there are "at least" 14 victims who were taken to area hospitals. Their conditions were not immediately clear. Broward
Israel confirmed that the suspected gunman who has been named by a US official as Nicolas Cruz, was arrested off campus "without incident". He was a former student aged about 18.
"There was a time when he did attend the school, I don't know why he left," Israel told reporters.
Broward Country Schools Superintendent Robert Runcie said: "There are numerous fatalities. It's a horrific situation." The sheriff's office asked residents to avoid the area surrounding the high school.
The Coral Springs Police Department asked teachers and students to remain barricaded until officers reach them. SWAT teams were seen entering the school campus with police dogs.
Witnesses spoke of their horror as the tragedy unfolded. McKenzie Hartley, 19, said her sister was inside the school and told Reuters: "She heard him shooting through the windows of classrooms and two students were shot."
Kyle Yeoward, 16, told the news agency he was ion the second floor of the building and that: "he let loose on the freshman building".
In a statement, White House deputy press secretary Lindsay Walters said President Donald Trump was briefed on the shooting and is monitoring the situation.
"The president has been made aware of the school shooting in Florida. We are monitoring the situation. Our thoughts and prayers are with those affected," Walters said.
President Trump later took to Twitter to share his condolences, saying no one should ever feel unsafe in an American school.
Parent Caesar Figeuroa spoke to CBS News he has been communicating with his daughter, who is hiding in a closet, via text.
The girl said she heard gunfire and the window blew, she screamed and ran into the closet with a friend. She told her father she heard screaming and running and said three students had been shot in the classroom next to her.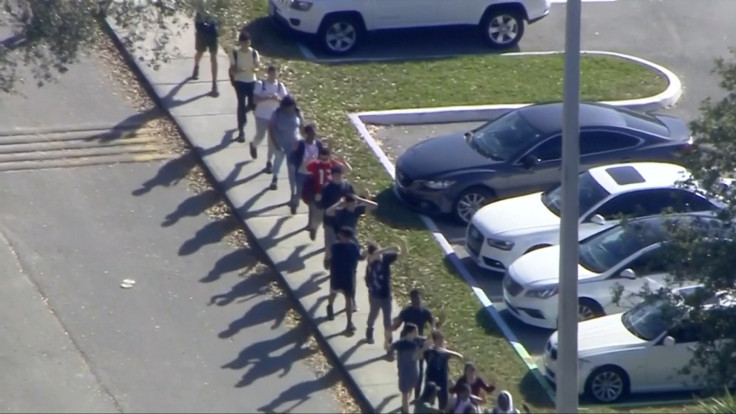 Figeuroa called the school a "war zone" with the added police presence. "It's the worst nightmare not hearing from my daughter for 20 minutes, it was the longest 20 minutes of my life," the concerned father added.
According to CBS News, student were being evacuated to West Glades Middle School. The FBI and ATF are responding to the scene.