US President Barack Obama has continued with his pledge for the closure of Guantanamo Bay, the military prison based in Cuba, with the intention of transferring the remaining detainees to America. Speaking at the White House on 23 February, Obama urged lawmakers to give his idea a "fair hearing", saying he did not want to pass the issue to his successor when his presidency ends in 2017.
Obama's proposal, which has not gone without controversy, has lead Republicans to prepare legal action. House Speaker Paul Ryan claimed the Pentagon-authorised plan would be against the law and that bringing prisoners to the US from Cuba would violate a ban made on such transfers that was passed by Congress in 2015. "Our law is really clear," he told reporters after a meeting of House Republicans. "These detainees cannot come to American soil."
According to the former secretary of defence, Donald Rumsfeld, Guantanamo Bay was opened with the intention to detain extraordinary, dangerous people, to integrate them in an optimal setting and to prosecute them for war crimes.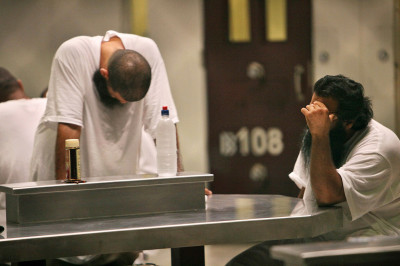 Guantanamo was first introduced by George W Bush in 2002 and is located within the Guantanamo Naval Base, which fronts Guantanamo Bay in Cuba. The prison holds a number of "camps" including Camp Delta, a 612-unit detention centre that replaced temporary facilities of Camp X-Ray and was built from February through to April in 2002. Camp Delta is composed of detention camps one through to six along with Camp Platinum, Camp Iguana – the Guantanamo psychiatric ward, Camp Echo and Camp No – which includes a interrogation centre. As of January, 93 prisoners remain in the prison, down from a peak of 775, although most were released without charge.