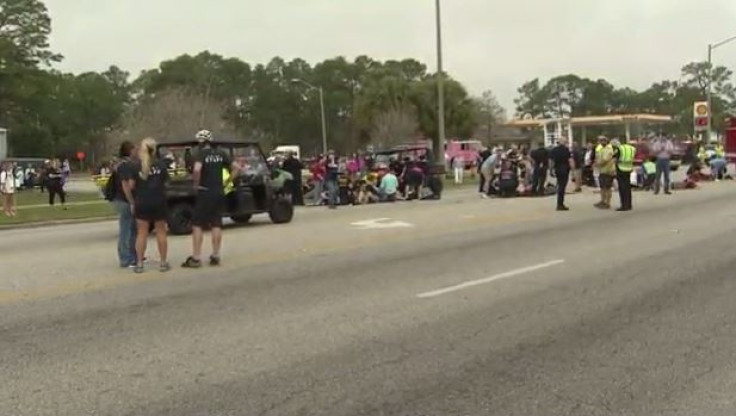 Update at 6.40pm: WKRG report that the elderly driver was at the wheel of a parade vehicle representing the Military Officers Association of America. The identity of the driver is still unknown and there is still no indication that this was a deliberate act.
Update at 6.20pm: WKRG report that 12 of the band members have been injured, 4 of them critically.

They also claim that the car was driven by a 73-year-old man. Gulf Shores Police Chief Ed Delmore said: "Every indication is that it was a tragic accident by an elderly man."
ORIGINAL STORY:
Eleven high school band members have been injured after a vehicle ploughed into a Mardi Gras parade in Gulf Shores, Alabama.
A city spokesperson said the incident on Tuesday (28 February) left three of the injured teenagers in critical condition.
The band was understood to have entered the parade route street shortly before 10am local time when an SUV, also in the parade, accelerated and hit the teens.
A tearful witness, Ron Cutter, told local news channel WKRG that the vehicle's "wheels were still spinning" when he ran to help the victims – some of whom were stuck under the vehicle.
Video footage from the scene showed multiple ambulances with several people on stretchers being treated by paramedics.
Broken instruments, including drums, a clarinet and several drumsticks, littered the street, with injured bandmembers' shoes also left behind.
"A teenage band had just started to march down the parade route when they were struck from behind. The vehicle was a part of the parade," Grant Brown, a spokesperson for the city of Gulf Shores, told WKRG.
It is unknown whether the crash was an accident or had criminal intent.
The driver of the vehicle is believed to have been an elderly man.
Witnesses claimed the driver's foot slipped off the brake pedal and onto the gas, causing the car to plow into the back of the Gulf Shores High School marching band, Local 15 reported.
The Gulf Shores Parade was officially cancelled shortly after the tragedy unfolded.
City of Gulf Shores released a statement on Facebook saying: "The Gulf Shores Mardi Gras Parade is cancelled ... North bound Highway 59 traffic closed north of clubhouse drive. Detour east and west to get to the Highway 59 Bridge."
---
Local police urged witnesses and anyone who captured photos or video of the incident to contact officers by emailing bcowan@gulfshoresal.gov