The annual Gumball 3000 rally attracts all manner of high-end supercars to the week-long motoring spectacle but, in 2016's line-up, nothing stands out quite as much as this real-life Batmobile from Saudia Arabia's Team Galag.
Powered by the 5.2-litre engine of a Lamborghini Gallardo, the so-called Batmobile 2.0 has been built by Swedish car manufacturer Caresto and is based on Batman's wheels in 2015 video game Arkham Knight. The custom-built behemoth is currently picking its way along the 3,000-mile route from Dublin to Bucharest as part of this year's motorcade.
While it doesn't feature the military-grade weaponry of Bruce Wayne's preferred mode of transport, the Batmobile 2.0 perfectly embodies the 'mini-tank' makeover given to the Batmobile in DC Comics' more recent outings. The 560hp V10 engine sits encased in a full carbon-fibre chassis on top of four 26-inch wheels, with the vehicle boasting a massive 3.4-metre wheelbase. The car's front and rear suspensions are fully independent while inside drivers can enjoy an interior of soft leather (in black, of course) and gold stitching, with seats, pedals and flooring that light up when the cockpit is opened.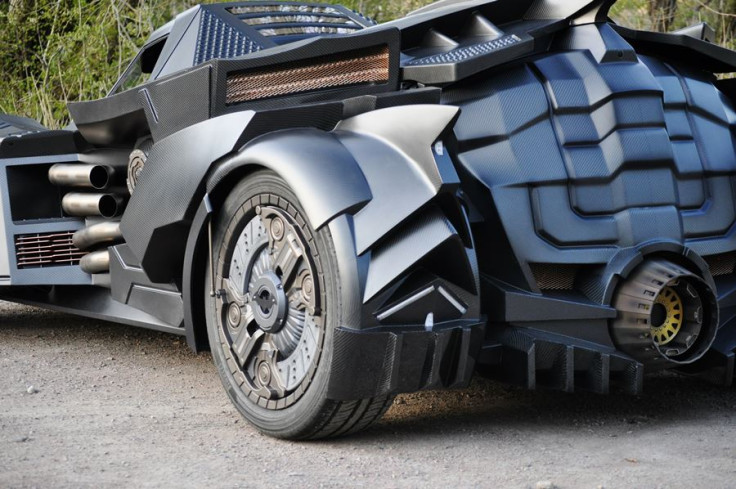 From a pure design perspective, Castero's take on the Batmobile manages to outrank even some of the "official" Batmobiles we've seen on the big screen, and it's certainly more functional than Faraday Future's insane Batman-inspired hypercar concept.
You can see the Batmobile 2.0 in all its glory in the video below, uploaded to YouTube by Mr JWW. Now, if only somebody could build a fully-functional Batwing...
You can follow the progress of Team Galeg's Batmobile at Gumball 2016 via the team's Twitter page.