Gun crimes on rise sharply in London, Manchester and Birmingham
Police are concerned that illegal firearms could end up in hands of terrorists.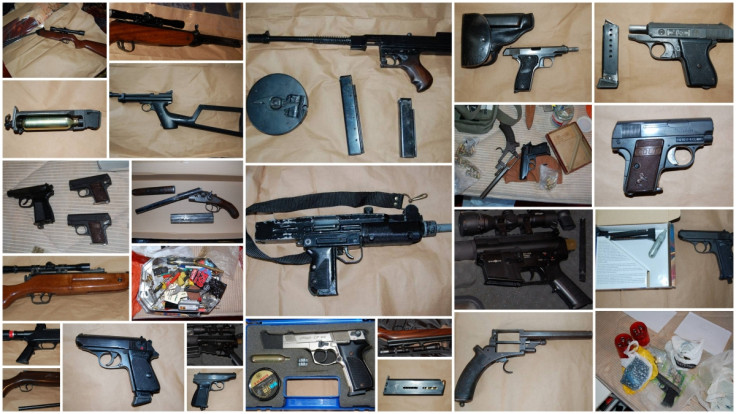 Gun crime in the UK has risen in 2014-15 but three cities — London, Manchester and Birmingham — have seen a sharp rise compared to the rest of England and Wales. A draft Commons briefing paper on firearms noted that the three cities which have the worst gun problems also saw significantly higher rises in gun crime.
There was a 2% year-on-year rise in gun crime in England and Wales during the period. In London, the Metropolitan police registered 1,652 gun crimes, up 3.6% from the year earlier. Greater Manchester police recorded a 10.1% rise in gun crimes with 437 incidents while West Midlands police saw a 4.1% rise or 562 gun crime incidents.
The Times which saw the briefing paper, said that smaller police forces also saw a spike in percentage rises but noted that the number of actual gun crime incidents were still relatively low. These included Essex police which saw a 14.3% rise in gun crime to 176 incidents and Sussex police which saw 90 offences, up 32.4%.
Slightly over 1,000 people were killed or injured in firearms offences in 2014-15, the briefing paper noted. More than half of the victims were aged between 15 and 35 while those aged 20-24 made up of 17% of victims.
The paper also highlighted the fact that black people, who account for only 3% of the total population, accounted for 15% of gun victims.
Three main gun smuggling threats:
supply of ex-military weapons from the Balkans;

Russian-made handguns smuggled in by Lithuanian gangs; and

weapons arriving by mail order from the US.
Police are concerned that the recent terror attacks in France and Belgium will see terror cells in the UK trying to acquire guns. The Police forces and the National Crime Agency are focusing on three main gun smuggling threats.
Alistair Carmichael, the Liberal Democrat home affairs spokesman told The Times that the rise of gun crime in the country was "deeply concerning" and should be made a priority. "We are not America, these weapons should not be on our streets," he said.
Carmichael continued: "The horror of Nice shows that with acts of terrorism on our streets, we should do everything within our powers to stop the flow of weapons, especially guns, in our cities. If we cut the flow of guns we impact on gang violence, drugs cartels and terrorism"
© Copyright IBTimes 2023. All rights reserved.