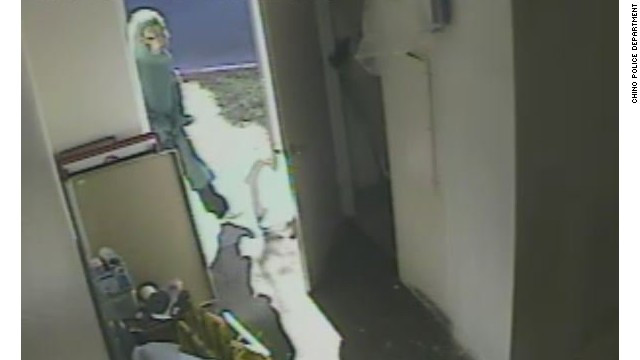 Police in California are hunting a man wearing a werewolf mask who shot a worker at a cheque cashing business business.
The mask-wearing attacker shot a worker, with the bullet grazing his head during a sudden attack in Chino, southern California, on Friday.
The victim, a 58-year-old construction worker, is expected to recover, authorities said.
His co-worker told CNN affiliate KABC that they thought it was a joke when the man walked in - then he opened fire without warning.
"He didn't say a word," Armand Soliano said. "He shot him in the head for no reason."
The business was closed for renovations at the time of the attack, and the masked man entered through an open back door, said police.
"The suspect entered the business... through an open rear door and shot the victim upon encountering him inside," said Lt. Aaron Kelliher of the Chino Police Department.
CCTV footage shows the suspect wearing a mask of a werewolf of possibly Planet of the Apes character.
After shooting the man, the attacker made off on foot, but despite searching, police were unable to find him.
After being treated in hospital, the victim was released. Police said that the motive for the attack is unclear.
Earlier in November, a man wearing a skeleton mask and Halloween skeleton bodysuit held up a woman and her two-year-old son outside a residential address in Houston, Texas.
The woman, who did not want to be named, said that the robber got out of a car and pointed a gun at her son's head, and she handed over her purse.
"They grabbed my son, pulled him next to him and pointed the gun at his head, at the temple," she told local media.
Police said that they believed that the robbery may have been connected to about half a dozen committed in the area by a man wearing a skeleton body suit and mask.