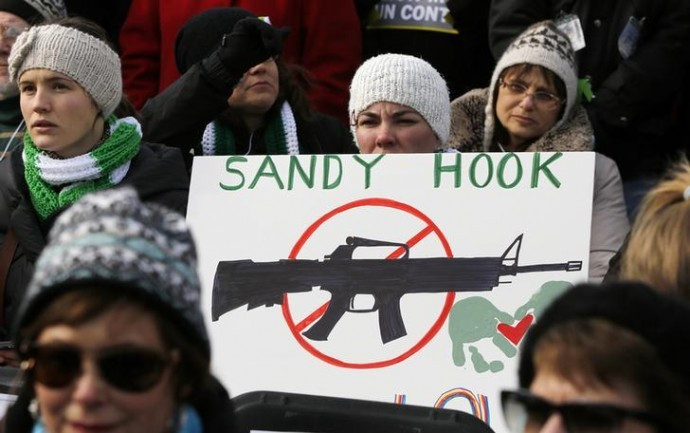 Teachers in South Dakota could be the first in the US to be expressly permitted to carry guns in school, after a vote by state legislators.
As part of the school sentinels bill, introduced in the wake of the Sandy Hook shootings in Newtown, Connecticut, 152 school districts will be allowed to decide whether to allow staff to carry firearms.
In Friday's vote a majority of the Republican-led state legislature voted to allow weapons to be carried inside schools, where they were previously banned.
Representative Scott Craig, who sponsored the bill, said: "It's proactive and it's preventive."
Supporters said that it was an important security option for schools in isolated rural areas, which can be 45 minutes away from the nearest police and emergency services.
Under the new rules, school boards that want to arm staff would have to gain approval from the police, and a 'school sentinel' would then receive special firearms training.
Dakota's Democrat representative Karla Drenner said the moves are a backlash against US government proposals to restrict access to firearms following the Newtown shooting, in which 26 children and adults were murdered.
Drenner, who is a college teacher, said that she feared the presence of weapons in schools could lead to pupils arming themselves, and recalled an incident in which she had a confrontation with a student, which, "If he had a gun, the outcome could have been much different."
Wade Pogany, the executive director of the Associated School Boards of South Dakota, told the New York Times: "If firearms are the best option that we have, I'll stand down," Dr. Pogany said. "But let's not come into a heated, emotional debate about this and say this is the answer. This is premature."
Critics also said that many school shootings have happened in urban areas, and called on representatives to provide extra funding to employ more police-affiliated 'resource officers,' who already provide extra security for a number of schools.
After the Newtown killings, the National Rifle Association argued that schools should have armed guards and staff should be allowed to carry guns, and half a dozen states introduced legislation to allow this, but most bills had stalled until now.
States with large urban centres, including New York and California, have introduced laws to restrict access to firearms.
In Hawaii and New Hampshire adults with concealed weapons permits can carry guns in schools, while in Texas, schools must authorise individual exclusions from the state's ban on firearms in schools.
The US Senate will vote soon on the tighter national gun control laws proposed by President Barack Obama's government.