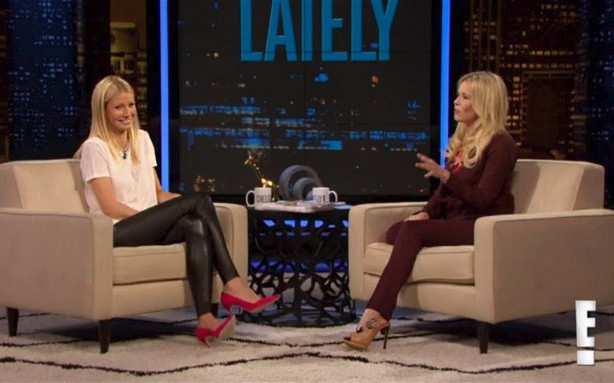 Gwyneth Paltrow has revealed her secret for keeping the peace in a relationship.
The 40-year-old star once told a friend that instead of arguing with her husband she should just perform oral sex on him.
She revealed the advice in an appearance on Chelsea Handler's US chatshow Chelsea Lately.
Handler reminded her of a girls' night out they both went on where one friend confessed that she was having problems with her man. Gwyneth advised her to turn her anger into passion.
"We were at a dinner party one night and this girl was asking for advice and Gwyneth is an amazing advice giver," Handler told the audience.
"The woman was saying 'I got into a big fight with my husband and I got home and I wanted to scream and yell' and Gwyneth was like 'Whatever you're doing just do the opposite. If you feel angry just go at him with love and you give him a blowjob'."
Clearly embarrassed, Paltrow nervously giggled and held her head in her hands as she exclaimed: "What if my mum sees this show?"
The mother-of-two sent was recently pictured at the Hollywood premiere of Iron Man 3 in a daring dress that revealed her underwear-free bottom.
The floor-length Antonio Berardi gown featured mesh panels down the sides, that give teasing glimpses of her hips and backside.
Paltrow, who dethroned pal
Beyoncé in People magazine's annual Top 10 Most Beautiful list
, credited her youthful looks to a healthy diet and lots of exercise.
"It makes me look younger and feel strong," she told the US magazine.
"When I first started, I thought, 'I'll never be good at this. This is a nightmare.' But now it's like brushing my teeth, I just do it."