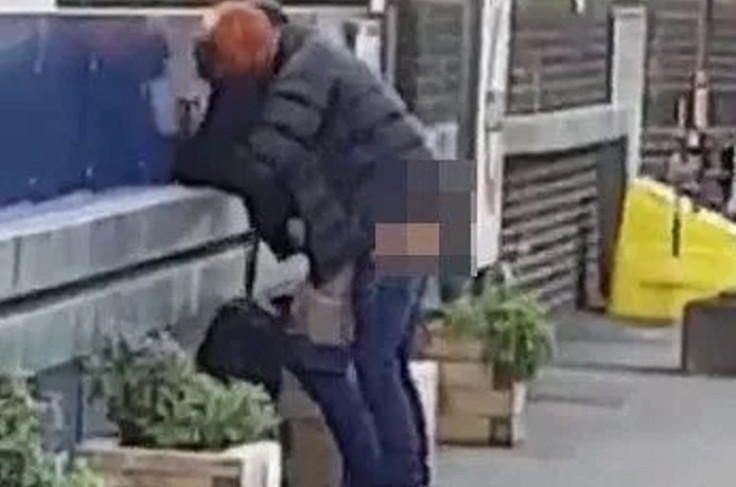 There were two stories told today by Dominic Richardson, now known across London as the "Hackney Downs shagger".
The first emerged in court, where the 23-year-old psychology student sought to explain why he had been filmed romping with a mystery red-headed woman in full view of another passenger on the platform of Hackney Downs Overground Station.
The clip of the brazen sexual encounter – taken by a "shocked and outraged" female member of the public – was posted online and quickly went viral. It was eventually viewed by Richardson's horrified parents as well as his friends, fellow students and thousands of others.
And while his drunken antics on 26 August were celebrated by some online, the video footage led to his arrest and eventual guilty plea for outraging public decency.
At Highbury Magistrates' Court, Richardson had tried to cut a remorseful figure before sentencing.
He was "mortified and ashamed" of his behaviour, his defence, Davis Jones, told the magistrate.
"He can't turn anywhere without people coming up to him because of this moment of madness," Jones added, bemoaning the attention it had garnered.
"He said it was unlike him and not something he has ever done before."
Jones went on to speak of how the east Londoner, from Poplar, had been working 50-hour weeks to pay off debts at the time of the incident, and barely had time to socialise.
It's what led to the blow-out binge weekend of rum drinking that fuelled the public sex with a woman he had met after leaving a bar, he added.
"He does not seek to hide behind the fact that he was drunk but he simply seeks to use it as an explanation," his defence said.
Furthermore, Jones said Richardson would forever have to explain this incident to employers in the likely event they search his name on the internet.
"It's a costly price," he said.
But as the University of East London student emerged from court with a £170 fine and two-month alcohol ban, the shame and grief of it all appeared to miraculously disappear.
Instead, Richardson grinned as he boasted of being treated "like a king" by his peers since the footage was posted online.
Casting himself a Romeo figure, he also told IBTimes UK how girls had been throwing drinks at him all night on the weekend of the incident.
With no effort to hide himself from press photographers, it was also less clear whether Richardson was keen to put the incident behind him.
Instead, he pleaded for his Instagram account to be mentioned in any media coverage so he could get more followers.
It's an attitude that will unlikely impress the magistrate who slapped him with a fine and drinking ban. Magistrate Linda Logan told him during sentencing that his actions were "a very serious matter".
Prosecutor Zara Khan also told the court that while only one person witnessed Richardson's sexual encounter, it happened at 7.15am on a Saturday during school holidays and at a time when children could have been present.
"They were having sex on a platform... It was during the school holidays on a rail line on the route that takes passengers to and from Stansted Airport," Khan said.
She added that the woman who filmed the incident and called the police "was shocked and outraged by what she was witnessing".
Meanwhile, British Transport Police (BTP) are still searching for the mystery red-headed woman that made up the other half of the public sex act.
PC David Weatherhead said: "Our enquiries continue to trace the woman involved. I would like to hear from you if you know the woman in the images we have released this morning.
"We would like to speak to her as we believe she may have information which could help the investigation."