WARNING: Footage contains graphic images some viewers may find distressing.
A halal slaughterhouse at the centre of controversy after CCTV footage showed its workers abusing and "hacking" sheep has said animal welfare remains its "highest priority".
The Bowood Lamb abattoir in Thirsk, North Yorkshire, is under investigation by the Food Standard agency (FSA) after hidden camera footage released by charity Animal Aid show its workers kicking, punching and killing the animals in a way which goes against religious animal slaughter rituals.
One man has been sacked and three more suspended after the footage showed the "horrific" abuse of animals. During the footage obtained by Animal Aid over three days last December, sheep are kicked in the face and smashed headfirst into solid objects as well as being violently picked up by their fleeces, throats and ears and tossed around.
The men were also seen "hacking and sawing" at conscious sheep's necks, which goes against the halal code of slaughter. The halal code states animals are supposed to be stunned into unconsciousness before they are killed with a single cut of a surgically sharp knife.
In one instance, a worker can also be seen standing on the neck of a conscious sheep then bouncing up and down and another worker holding a sheep by its throat and threatening to punch it.
Following the outcry over the footage, the slaughterhouse has said it still considers the treatment of its animals a high priority
A Bowood Lamb spokesperson said: "We set very high standards for the way in which animals that pass through our premises are treated and we enforce those standards rigorously.
"Everyone working for us knows and understands the standards we require.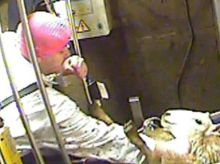 "It is highly regrettable that one of our slaughtermen fell below those standards. As soon as we were aware of this failing we dismissed this staff member for gross misconduct. This was consistent with the approach we would always take in a situation of this type.
"Currently three other members of staff have had their licences suspended because Animal Aid claims that they have committed technical infringements of the regulations relating to religious slaughter. We will await the outcome of any investigation relating to their suspension."
Jamie Foster, a solicitor speaking on behalf of Bowood Lamb, added the incidents shown in the footage are "hugely regrettable".
Speaking about the one worker who stood on a sheep's neck, Foster said these actions "fell far below the standards that Bowood would find acceptable, and that individual was immediately dismissed for gross negligence".
"But it isn't right that this is routine because Bowood is a company that takes animal welfare extremely seriously," he added.
The FSA said there is "no excuse for treating animals in the way shown on the video" and that prosecutions could follow, but added the abattoir will remain open.